This hand-picking makes for laboured viewing. There are a few good gags, though and casino owner Terry Benedict (Andy Garcia is a character well developed. A ruthless guy who wants to be in control of his business all the time, he is as smart as he is brutal. But he runs into a major snag when he is currently dating Dannyís ex-wife Tass (Julia Roberts). "My wife left me, i was upset, so I got into a self-destructive pattern" is Dannyís way of putting it.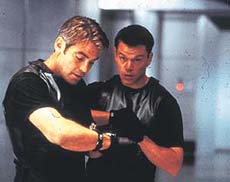 A still from Oceanís Eleven
But the self-destructive pattern, if one can call the heist that, is far from entertaining. It is too slick and impersonal. There is little suspense or even less cumulative build up. It is indeed surprising that director Steven Sodererg should have opted for such a subject when he is more at home in dialogue-heavy films like Sex,Lies & Videotapes and "traffic." The pacing too isnít quite right and the viewer is taken on a sort of rollercoaster ride without being given much to reason about.
May be the final explanation is convincing but all the action, its predictability and the non-involvement work against it. Humour is the only relief. But this is not a comedy and the action and humour donít really gel. George Clooney Brad Pitt and Matt Demon do their bit and Julia Roberts lags along but thanks, no thanks, this is not my kind of film.
Heartbreaker is a film about a conwomen team (mother and daughter) whose target is unsuspecting husbands. The mother marries and gets the daughter to seduce the husband. Caught in the act, they move with the divorce and settlement and then on to the next prospective victim.
Max (Sigoumey Weaver) is the mother and Page (Jennifer Love Hewitt) the daughter. Theyíve just conned Dean (Ray Liotta) and their next victim is tobbacco billionaire William Tensy (Gene Hackman) whose chronic coughing is the result of chain-smoking. Now this may be funny to a point but it is grossly overdone to a point of being abhoneni. So are some of the gags which are far from subtle. Reminiscent of Paper Moon where the dad-daughter team of Ryan and Tatum OíNeal con religious folks by selling Bibles to them, this is a more shady or enterprising, depending on which way you look at it. The idea is good. It is the implementation that really drags.
For one thing, credibility is the first casualty. Then the slapstick pals. Next comes the predictability. If one-liners are all you look for may be it could be your cup of tea, but then there is hardly any plot to speak of. When Page finds true love in bartender-owner Jack (Jason Lee), mother Maxís plan runs aground. As for the film it only ends when it runs out of breath and that takes all of 120 minutes.
Itís also sad to see fading big names like Gene Hackman (The French Connection). Sigourney Weaver (Gorillas in the Mist) and Ray Liotta struggling in this second-rate comedy. Jennifer Love Hewitt probably gains by contrast but Heartbreaker is quite avoidable. At one time "backbreakers" seems more appropriate, that is for the viewers of course.