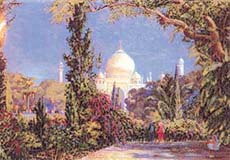 Taj Mahal
Marianne painted flowers, plants, birds, insects, animals, landscapes, and occasionally buildings, but basically she was a botanical artist. She painted a wide variety of plants, no less than 727 genera and nearing 1000 species. Many of the plants painted were barely known either botanically or horticulturally. Four were previously unknown to science and were named after her. One of these, Crinum Northianum from Borneo, was actually described from her drawings. This points to high scientific accuracy of her paintings.
Her Indian paintings include 28 plants often mentioned in Indian literature, especially in connection with religion. Of these are: Indian coral tree which is often mentioned by Indian poets, frangipani is planted in cemeteries, jasmine is used to adorn temples, mango which is widely eaten and its wood used to burn dead, Asoka tree which is known for beauty of its foliage and flowers, thorn apple the juice of which leaves was once used by Rajput mothers to smear their breasts in belief that it destroyed their new-born daughters.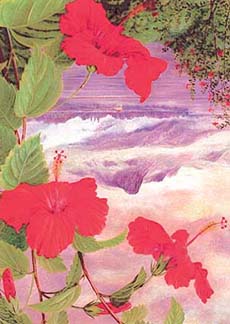 Hibiscus Liliiflorus
She visited India twice, firstly during 1877-79, then later on. Her Indian visits took her to the entire length and breadth of the country. Starting from Tuticorin in South India, where she landed from Ceylon she visited Madura, Dindigal, Palani hills, Trichinopoly, Tanjore, Seringhama, Kunur, Beypur, Cochin, Quilon, Trivandrum, Bombay, Matheran, Lanavali, Caves of Karli, caves of Ellora, Agra, Nainital, Saharanpur, Roorkie, Hardwar, Dehra Dun, Mussourie, Amritsar, Lahore, Shimla, Moradabad, Lucknow, Banaras, Calcutta, Darjeeling, Delhi, Mathura, Alwar, Bharatpur, Dig, Jaipur, Amber, Ajmer, Chittor, Udaipur, Baroda, Champanir, Surat, Bhavnagar, and Palitana. What an amazing feat!
During her Indian visit one aspect which impresses us is the welcome and help which she received from the concerned authorities. Maps were supplied, servants and dolies provided.
Back in England, she held an exhibition of her Indian paintings in Conduit Street, which were greatly admired. In fact, she was pestered a great deal by her friends and their friends to show them her Indian sketches. It was the success of this exhibition that made her request Sir Joseph Hooker, Director of Royal Botanical Gardens at Kew, to build a gallery to house her collections of paintings which numbered over 800. Her request was accepted and the outcome was the famous Marianne North gallery.
After several sojourns abroad, she finally settled down at Alderley in Gloucestershire. By 1884, her health started falling. She become partly deaf and suffered from liver disease. Gradually, her health and spirit waned. She died on August 30, 1890, at Alderley and was buried in the quiet precincts of church there. Thus ended the life and career of a very talented woman.
The consummate dexterity with which she painted pictures of flower, plants, trees and historic buildings reflects her keen observation and aesthetic sense. Whether it was a flower, a tree or a view of snowy mountains with sunlight simmering on it or an ancient building with its old-world charm all were transformed by her touch to transcendental beauty which no camera can do.
She had an equally facile pen while describing the beauty of places.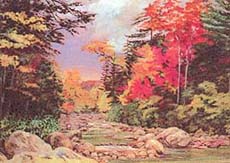 Autumn Tints
During her travels within India Marianne visited Shimla ó the summer capital of India. On her arrival, she found men in Royal red coats and a jampany waiting to carry her up to the Deputy Governor of the Panjab. She was heartily welcomed by the high government officials and allotted a small house at a vantage point, from its windows she could look on endless hills, with great deodar trees. She found many beautiful objects to paint close to the Governorís house. As her house was on the southern side of the Jakhoo Hill, she could get a panoramic view of deodar forests. Towards the north, there was an abundant growth of oaks and many other rarities of flowering shrubs. She found benthamia the most striking, with its four primrose coloured bracts, shaped like the bougainvillaea. There were delicate white-flowered spiraea with white, palepink, wild indigo, dog roses, columbines, delphiniums, primulas, orchids and other varieties of wild flowers. In fact there was natureís plenty for her to enjoy and paint.
The beauty of nature left an indelible an impression on her mind, and Marianne could never forget the scenes of sunset and sunrise that she enjoyed from Jakhoo. The majestic deodar trees with virginian creepers, with young green cones almost white against the dark foliage and boughs. Great golden eagles gliding across the green valley, looking golden in the slanting rays of the sun against the blue misty mountains became the subjects of her paintings.
She was fascinated by the sight of a hill temple stuck all over with bits of red cloth and rags and a sea of cotton-wool clouds surrounded it and beyond it was the magnificent full view of the great snow range. In her own words, "one of the finest in the world." She captured the unspoilt beauty of these scenes in her paintings. Describing her walk along Jakhoo, she writes, "The ground was blue with forget me nots and blue anemons. The maiden hair fern covered the ground between the flowers."
Through her paintings, Marianne North has preserved the beauty of nature of the places which she visited in the second half of the 19th century.
During her travels, Marianne also visited the Taj and found it bigger and grander than she had imagined. Its marble was pure and polished and the building was so cleverly raised on its raised terrace, half-hidden by the gardens on one side, and washed on the other by the Yamuna river.
The garden was a dream of beauty; bougainvillaea there werefar finer than she even saw it in its native Brazil. The great lilac masses of colour often ran up into cypress trees, and the dark shade of the latter made the flowers shine out all the more brightly. The petraea also was dazzling in its masses of blue. "Sugarpalms and coco-nuts added their graceful feathers and fans, relieving the general roundness of the other trees." The Taj itself was too solid and square a mass of dazzling white. But the dry heat of Agra was too much for her to bear and she wanted relief in the salubrious weather in the hills.
She started by the rail at night for Bareilly and then on to Kanibagh in the district of Kumaon, a place with large mango trees all loaded with bloom and a river running below. What a contrast from heat and dust of Agra! She took the road to Nainital. She was carried up the hills in a dundee and after traversing one of the most beautiful surroundings, she reached Nainital. On the way to Nainital, she immortalised the beauty of the road through the hills in her painting. What a beauty this picture presents: range after range of blue mountains in ascending order, trees and hillmen walking on the road.