Sunday, March 10, 2002

Sunday Activity
Let there be light!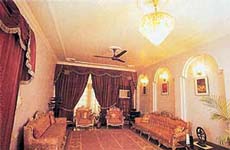 With a little care, your chandelier will sparkle
A well-lit room with ornate chandeliers and designer lights and shades sure gives a feeling of class. But these delicate glass fixtures are often taken for granted as long as they help to light up a room. What one often fails to realise is that they too gather dust, which can lessen their effectiveness. They require periodic cleaning but need to be handled with extreme care.
Washing light fixtures
Cleaning glass light fixtures can be a simple weekend job if you go about it methodically. Here are a few steps to guide you:
Turn off the switches.

Then take off all shades, shields, globes, and metal grills. Also take out the light bulbs and tubes. Be careful not to drop or break fluorescent tubes.

Put hot water in a tub or deep sink. Also, put hot water in a pail. Put soap or detergent in both the sink and the pail. Swish up thick suds.

Put shades, globes and other parts removed from the fixture in the tub or sink. Rinse these pieces with warm water.

To wash wall and ceiling fixtures, squeeze a sponge or cloth out of the sudsy water in the pail. Use this to wipe off all parts of the fixture. Stand on a safe step stool or ladder to reach high-up fixtures. Rinse the same way, using a clean damp sponge or cloth. Wipe all the parts dry.

Do not let water run into open sockets. If there are metal parts, you can use polish or wax on them after they are dry.

Sponge off, wipe dry and replace the bulbs and tubes. Do not get end of bulbs that screws into socket wet.