Wednesday, March 13, 2002, Chandigarh, India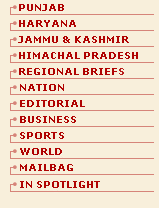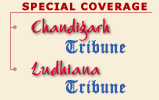 B U S I N E S S
Treaty brings relief for vanaspati industry
New Delhi, March 12
The woes of the Indian vanaspati industry seems to have finally ended with the renewed Indo-Nepal treaty addressing the competitive advantage enjoyed by a Nepalese producer of the cooking medium.
Central Excise offices upgraded
Ludhiana, March 12
The Union Ministry of Finance has upgraded the Central Excise office at Chandigarh, Ludhiana, Jalandhar and Panchkula. According to the notification 14/2002-CE-NT issued by the ministry, on March 8, 2002, the office of the Central Excise Commissioner, Chandigarh has been upgraded to the office of the Chief Commissioner, besides Ludhiana, Jalandhar and Panchkula.
SEBI seeks powers to punish erring firms
New Delhi, March 12
The Union Cabinet will take up tomorrow the proposal to amend SEBI Act for providing additional power to the market regulator.
'No plan to go public with Infocom'
New Delhi, March 12
Reliance Industries Managing Director Anil Ambani has said there were no immediate plans to approach the public for funding the Rs 25,000 crore Infocom project while asserting work on building the communication network was "very much on track".
Steel units seek action to check dumping
Ludhiana, March 12
The re-rolling and forging units of Ludhiana, Mandi Gobindgarh and surrounding towns have urged the Centre Government to take preventive measures in advance to check the potential dumping of steel in the domestic market.
LETTERS
PPF is best
At present the PPF scheme remains the best investment in the market. While post tax returns on income funds would currently range between 7-8 per cent, RBI bonds would provide individuals 8 per cent. On the other hand, bank fixed deposit would fetch just 7 to 8 per cent. This makes PPF the favourite by a long shot. The only compromise investment has to make while investing in PPF is liquidity. But then, one has to pay some price for getting better returns.


| | |
| --- | --- |
| | A close-up picture shows a special edition golden 100-euro and 200-euro coin presented by German Finance Minister Hans Eichel in Berlin on Tuesday. The gold edition is limited to 500,000 pieces for the 100-euro coin and to 100,000 pieces for the 200-euro coin. — Reuters |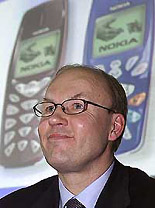 Nokia Mobile Phones President Matti Alahuhta addresses a news conference at the CeBIT in Hanover on Tuesday. Matti Alahuhta said fears over the availability of high-speed 3G handsets had been overblown and that Nokia hoped to start shipping the product in big volumes in the fourth quarter of the year. About 8,000 exhibitors will present their products at the CeBIT, the world's largest computer fair which will be open to the public from March 13 to 20, 2002.
— Reuters

Industrial growth dips to 3.2 pc
March 12, 2002
Tax implications of the Budget
March 11, 2002
No move to raise cap in insurance
March 10, 2002
Guidelines for marketing of fuels notified
March 9, 2002
New Auto Policy unveiled
March 8, 2002
Budget is high on disappointment: Memani
March 7, 2002
Sinha not to withdraw 4 pc duty on cycle parts
March 6, 2002
Reliance merger to create financial powerhouse
March 5, 2002
Budget hits the salaried class hard
March 4, 2002
Merged Reliance may join Fortune 500 list
March 3, 2002