New trust soon for resolution of Ayodhya row
New Delhi, March 12
In a development of long-term significance, Govardhan Puri Shankaracharya Swami Adhokshajananda Devtirth today announced that a new nyas (Trust) comprising Hindu and Muslim religious leaders would be formed soon to resolve the Ayodhya dispute but stressed that the Supreme Court's decision would be final and binding on all litigants.
And now, fake tickets for Mohali tie!
Chandigarh, March 12
After reports of ticket holders being denied entry into the Punjab Cricket Association Stadium in Mohali on Sunday during the India-Zimbabwe One Day International, the issue of ''fake'' tickets has also come into light
In Health Tribune today

THE TRIBUNE MAGAZINES
On Mondays

On Sundays
On Saturdays

IN PASSING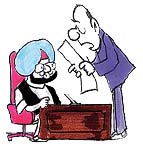 Sir, at 10 a.m. you are to approve another list of transfers, inauguration 11 a.m., 12 noon again transfers, 1 p.m. lunch, 2 p.m. transfers...

by Sandeep Joshi
BJP, BSP may join hands in UP
New Delhi, March 12
An understanding between the Bharatiya Janata Party and the Bahujan Samaj Party for forming a government in Uttar Pradesh is in the final stages. An indication in this regard was available today when Uttar Pradesh Governor Vishnukant Shastri told newspersons that it would be a failure on his part if a government was not formed.
Henry may join ministry today
Chandigarh, March 12
The stage is set for the first expansion of the Punjab Council of Ministers here tomorrow. Mr Avtar Henry, a former Excise and Taxation Minister, who has been elected for the third term from Jalandhar North, appears certain to be inducted.
Takeover of Wildflower Hall stalled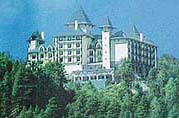 Shimla, March 12
The takeover of the Rs 100-crore Wildflower Hall by the Himachal Pradesh Government today took a new turn, with, East India Hotels Ltd (EIH) of the Oberois describing the action as "illegal" and the General Manager of the hotel, Mr Andrew Saldanha, filing a report with the police against "unauthorised and illegal trespassing" into the property by the government appointed Executive Director, Mr S.K. Baldi, and seven other officers.
No puja till SC verdict: PM
March 12, 2002
CRPF flag march in Ayodhya
March 11, 2002

Advani spells out terms for talks with Pak
March 10, 2002

Godhra moves all-party team
March 9, 2002

VHP to abide by court verdict
March 8, 2002

Governor recommends Central rule in UP
March 7, 2002

Kanchi seer's formula on temple accepted
March 6, 2002

VHP adamant on plan
March 5, 2002

Gujarat toll mounts to 450
March 4, 2002

49 more burnt alive, toll 400
March 3, 2002

Army stages flag march, riot toll 200
March 2, 2002