Thursday, March 14, 2002, Chandigarh, India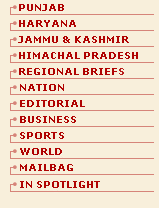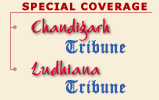 B U S I N E S S
Savings scheme for employees in offing
New Delhi, March 13
While categorically ruling out any rollback in direct and indirect tax proposals, Finance Minister Yashwant Sinha today announced that the government was contemplating a proposal to introduce a savings scheme for retired and VRS availing employees from the private sector along the lines applicable to government and semi-government employees.
Dividend Tax
Subsidies reduction
No move to cut STD rates further, says Mahajan
New Delhi, March 13
Bharat Sanchar Nigam Ltd (BSNL) has no proposal to reduce the STD rates further as the charges were slashed by about 60 per cent two months ago, Communications and IT Minister Pramod Mahajan informed the Lok Sabha during question hour today.
Ludhiana knitwear exports at 1000 cr
Ludhiana, March 13
Despite a decline of about 10 per cent in textile exports during 2001, Ludhiana knitwear exports have not only achieved previous year's targets, but also registered a marginal increase in the January-December, 2001, period.
Promotion of farm exports must: Kohli
Chandigarh, March 13
The performance of banks in Punjab is 2001 was reviewed at the 79th State Level Bankers' Committee meeting held here today.
India may push up S. Asia growth: WB
New Delhi, March 13
Higher GDP growth prospects in India is likely to push up the overall prospects of the recession-hit South Asian region to about 5 per cent growth this year, the World Bank said today.


| | | |
| --- | --- | --- |
| | CORPORATE NEWS | |
HCL Infosystems top PC firm
New Delhi, March 13
HCL Infosystems has been rated as the number one desktop PC company in India for the year 2001.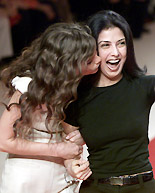 Indian designer Ritu Beri (R) is kissed by a model at the end of the Autumn/Winter 2002-2003 ready-to-wear collection she designed for French fashion house Scherrer in Paris, on Wednesday. — Reuters

Treaty brings relief for vanaspati industry
March 13, 2002
Industrial growth dips to 3.2 pc
March 12, 2002
Tax implications of the Budget
March 11, 2002
No move to raise cap in insurance
March 10, 2002
Guidelines for marketing of fuels notified
March 9, 2002
New Auto Policy unveiled
March 8, 2002
Budget is high on disappointment: Memani
March 7, 2002
Sinha not to withdraw 4 pc duty on cycle parts
March 6, 2002
Reliance merger to create financial powerhouse
March 5, 2002
Budget hits the salaried class hard
March 4, 2002