Allies unhappy over govt stand
New Delhi, March 13
Even as the Vajpayee government came in for a lot of flak over its stand in the Supreme Court favouring 'bhoomi pujan' at the undisputed site by its own allies, there appears to be no immediate threat to the National Democratic Alliance dispensation.
Jaitley clarifies govt stand
Oppn stalls Parliament proceedings
New Delhi, March 13
The Vajpayee government was at the receiving end in both Houses of Parliament over its plea to the Supreme Court to allow a symbolic "bhoomi puja" at the undisputed land in Ayodhya.
In Science Tribune today

THE TRIBUNE MAGAZINES
On Mondays

On Sundays
On Saturdays

IN PASSING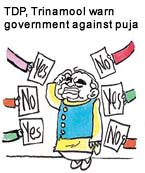 by Sandeep Joshi
India rejects Sattar's offer to visit Delhi
New Delhi, March 13
India today rejected Pakistan Foreign Minister Abdul Sattar's offer to visit New Delhi for talks on an extradition treaty between the two countries.
Sekhon removed as Southern Command AOC-in-C
New Delhi, March 13
Air-Officer Commanding-in-Chief, Southern Air Command, Air Marshal Manjit Singh Sekhon, was today removed from his present posting for taking recourse to extra constitutional methods to promote his career in the AF.
Avtar Henry joins Cabinet
Chandigarh, March 13
Mr Avtar Henry joined the Punjab Council of Ministers after the Governor, Lt-Gen J.F.R. Jacob (retd), administered the oath of office and secrecy to him at a simple but largely attended ceremony at Punjab Raj Bhavan here this afternoon.


Haryana imposes 20 pc ST on online lotteries
Rs 202 crore deficit in Budget
Chandigarh, March 13
Haryana has imposed 20 per cent sales tax on the "online" lottery to bring it on a par with the "paper" lottery. This was revealed by the Finance Minister, Prof Sampat Singh, while presenting the Budget for 2002-2003 in the Vidhan Sabha here today.
Major climbdown by VHP
March 13, 2002

No puja till SC verdict: PM
March 12, 2002

CRPF flag march in Ayodhya
March 11, 2002

Advani spells out terms for talks with Pak
March 10, 2002

Godhra moves all-party team
March 9, 2002

VHP to abide by court verdict
March 8, 2002

Governor recommends Central rule in UP
March 7, 2002

Kanchi seer's formula on temple accepted
March 6, 2002

VHP adamant on plan
March 5, 2002

Gujarat toll mounts to 450
March 4, 2002