Thursday, March 21, 2002, Chandigarh, India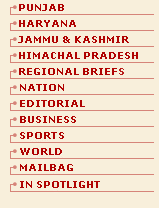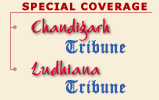 W O R L D
Pak plans fresh crackdown
Signing of 'good-behaviour' bonds must
Islamabad, March 20
Pakistan plans new moves to counter Islamic militancy that includes weaning adherents away from groups and making them sign "good behaviour'' bonds, an Interior Ministry official said. He said more militants would be detained in what he called the second phase of a crackdown that President Pervez Musharraf ordered in January.
Church attack: 4 cops sacked
Islamabad, March 20
The Pakistan Government yesterday removed four police officials in the wake of an attack on a church that killed five persons and injured 35.


In video (28k, 56k)

In video: US Assistant Secretary of State Christina Rocca and Gen. Tommy Franks have held talks with Pakistani President Pervez Musharraf in the wake of a grenade attack on an Islamabad church on Sunday. (28k, 56k)

Chances of Indo-Pak war highest since
'71: CIA
Washington, March 20
In a grim assessment of the Indo-Pak situation, CIA Director George Tenet has said chances of a war between India and Pakistan are highest since 1971 and warned that a conventional war could escalate into a nuclear confrontation.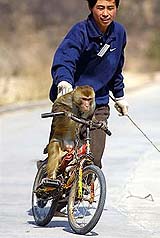 A monkey rides a bicycle guided by his trainer at the Badaling Safari Animal World on the outskirts of Beijing on Tuesday.
— Reuters