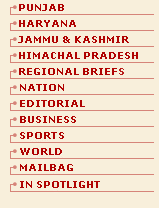 Monday, March 25, 2002, Chandigarh, India
Updated at 3:00 am (IST)


NHRC indicts Gujarat Government
Says it abdicated responsibility
New Delhi, March 24
Describing the situation in Gujarat as "shocking", the National Human Rights Commission today strongly indicted the Narendra Modi government, saying that the inability of the administration to prevent the Godhra carnage and the ensuing developments reflected "inaction" and "inefficiency and abdication of responsibility" on its part.
3 die in fresh wave of violence in Gujarat
Ahmedabad, March 24
At least three persons, including a 30-year-old woman, were today stabbed to death here in a fresh outbreak of communal violence in parts of Gujarat even as the Army patrolled in some localities here. The Tazia procession on the eve of Muharram was also cancelled.


In video (28k, 56k)

CAST YOUR VOTE
Can Musharraf's "forget force, let's talk" proposal be trusted?