Punjab deep in debt: White Paper
Makes subtle indictment of SAD-BJP govt
Chandigarh, March 25
The Punjab Finance Minister, Mr Lal Singh, today presented a White Paper on the financial situation to the Vidhan Sabha.



Salient points


PPSC Chairman in Vigilance net
To be produced in court today
Chandigarh, March 25
In a trap, the Punjab Vigilance Bureau today caught red-handed Public Service Commission Chairman Ravinder Paul Singh Sidhu while accepting a bribe of Rs 5 lakh at his residence in Sector 39. Till the filing of this report, search of his residence was continuing.
In Education Tribune today

THE TRIBUNE MAGAZINES
On Mondays

On Sundays
On Saturdays

IN PASSING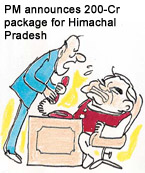 Sir, Punjab and Haryana CMs also want to invite you to their respective states!

by Sandeep Joshi
ISI plot to kill Abdul Kalam
Kolkata, March 25
Eminent Indian scientist and recipient of the country's highest award, Bharat Ratna, Dr Abdul Kalam was the target of attack by the Harkat-ul-Jehadi-Islami at an official function on September 30 at Bokaro steel city, Jharkhand, disclosed the special investigation team officials after interrogating Aftab Ansari, the prime accused in the terrorist attack on Kolkata's American Center.
Swami defends Modi govt
Gurgaon, March 25
In an apparent move to shield the BJP government in Gujarat, the Union Minister of State for Home Affairs, Mr I.D. Swami, today criticised the National Human Rights Commission for "misreading" the statement of Chief Minister Narender Modi with regard to tackling of post-Godhra incidents in the state.
PM announces package for HP
Shimla, March 25
Fulfilling the expectations of Himachalis yet again Prime Minister Mr Atal Behari Vajpayee today announced a significant financial package, including an untied grant of Rs 200 crore, to accelerate the pace of development in the fund-starved hill state.
TRIBUNE EXCLUSIVE
Liquor auctions fetch Rs 99.16 cr more
Chandigarh, March 25
In an apparent reversal of trends of holding of liquor auctions this year have been mostly free from political interference and were reportedly conducted in a "fair, judicious and transparent manner ," to show an unprecedented increase of Rs 99.16 crore over last year.
NHRC indicts Gujarat Government
March 25, 2002

PDS price for APL families cut
March 24, 2002

Govt not to deviate from NDA agenda
March 23, 2002

POTO Bill defeated in RS
March 22, 2002

Ceiling on RBI Relief Bonds goes
March 21, 2002

Sekhon forced to retire
March 20, 2002

PM vows fair poll in J&K
March 19, 2002

Godhra carnage mastermind held
March 18, 2002

Flareup claims 5 lives in Gujarat
March 17, 2002

Shila daan at akhara
March 16, 2002

SC clarifies Ayodhya order
March 15, 2002