M A I N N E W S
Israel tightens grip over W. Bank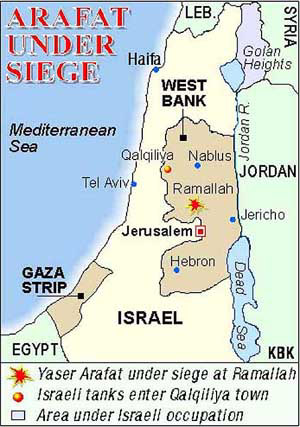 Jerusalem, April 1
Shortly after Prime Minister Ariel Sharon declared a war on Palestinian "terrorist infrastructure", Israeli forces backed by tanks tightened their grip over West Bank today and moved into the city of Bethlehem even as masked Palestinians shot dead at least seven compatriots accused of collaborating with Israelis.
Palestinian leader Yasser Arafat remained under siege for the fourth consecutive day in a small part of his heavily damaged headquarters in Ramallah and Israeli Defence Minister Benyamin Ben Eleizer said "I am waiting for the army to ... totally isolate Arafat".
Mr Sharon went on national television after two suicide bombers killed 17 persons in Haifa and Efrat last night declared a war on Arafat's "terrorist infrastructure".
Shortly afterwards, Israeli troops backed by tanks moved and took control of the West Bank towns of Qalqilya in the north, Bethlehem and the town to its south, al Khader.
Power supply to the three towns and Ramallah was cut off as the Israelis continued their hunt for what they called Palestinian "terrorists".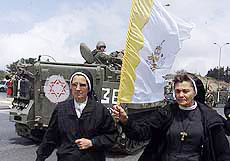 Nuns who work in a kindergarten in Bethlehem carry a Vatican flag as they pass an Israeli armoured personnel carrier at the Gilo checkpoint into the West Bank city of Bethlehem on Monday.
— Reuters photo
Eight Israeli soldiers were injured, one of them severely, in the exchange of fire while carrying out house-to-house search operations in Qalqilya.
Describing Arafat as an "enemy of the free world", Mr Sharon said: "We must fight this terrorism in an uncompromising way to uproot these savages, to dismantle their infrastructure, because there is no compromise with terrorists."
Two masked gunmen shot dead seven Palestinians in Tulkarm at a building where they were held by Palestinian intelligence on the suspicion of being collaborators of Israel. PTI