Petro prices decontrolled
Naik asks FM to avert price hike
New Delhi, April 1
The government today dismantled the three decade-old oil price controls on petrol and diesel amidst firming up of global crude oil prices, which prompted Petroleum Minister Ram Naik to petition Finance Minister Yashwant Sinha for excise duty cuts to avert any immediate price increase of petro products.
Israel tightens grip over W. Bank


Jerusalem, April 1
Shortly after Prime Minister Ariel Sharon declared a war on Palestinian "terrorist infrastructure", Israeli forces backed by tanks tightened their grip over West Bank today and moved into the city of Bethlehem even as masked Palestinians shot dead at least seven compatriots accused of collaborating with Israelis.

Israeli Prime Minister Ariel Sharon is seen during a speech to the Israeli nation in Jerusalem on Sunday. — Reuters photo

In Education Tribune today

THE TRIBUNE MAGAZINES
On Mondays

On Sundays
On Saturdays

IN PASSING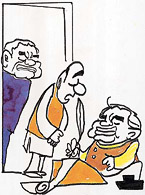 Atalji, would you like to settle down as a poet?
by Sandeep Joshi
Jaswant for Sino-Indian military cooperation
Shanghai, April 1
External Affairs Minister Jaswant Singh today stressed that India and China would have to develop military cooperation, putting the past behind them. He also ruled out the possibility of any cooperation with Pakistan in combating terrorism.
Govt resorting to 'half-truths'
Kanwaljit apprehends heavy dose of taxes
Chandigarh, April 1


Demolishing brick by brick the "negative picture painted by the Congress government about the economic growth of the state" during the five years of SAD-BJP rule in Punjab, the former Finance Minister, Capt Kanwaljit Singh, said today the government was resorting to half-truths to pave the way for administering a heavy dose of taxes.

Govt in a fix over Sidhu case
Chandigarh, April 1
The euphoria over the arrest of the Punjab Public Service Commission chief, Mr Ravi Sidhu, here last week notwithstanding, the State Vigilance Bureau finds itself in a piquant situation. The state government has initiated the process to recommend his suspension to the President through the Governor.


Punjab page: Vigilance sleuths search Sidhu's office


Quantitative restrictions on exports go
April 1, 2002

Foreign ultras storm Raghunath Temple
March 31, 2002

Mosque siege ends
March 29, 2002

Gujarat heads for snap poll?
March 28, 2002

Joint session okays POTO
March 27, 2002

Yasin Malik held under POTO
March 26, 2002

NHRC indicts Gujarat Government
March 25, 2002

PDS price for APL families cut
March 24, 2002

Govt not to deviate from NDA agenda
March 23, 2002

POTO Bill defeated in RS
March 22, 2002