The setting is similar to the Chariots of Fire campus scenes and the establishing shots are brilliant. So also is the script which is studded with excellent one-liners that plunge the viewer, post-haste, into that world of math madness. All Nash is looking for is a truly original idea and nothing can deviate him from this path. It is this obsession of his that rubs his colleagues wrongly but then he is supposed to possess two helpings of brain and one half of heart.
What he needs is love and this he finds in one of his bright students Alicia (Jennifer Connelly). It is around this time that he comes up with that original idea only to lose it because his obsession leads to schizophrenia. How he suffers because of it and is nursed back to normalcy by Alicia, now Mrs Nash is what the film is all about. What triggers this illness is Nash's liaison with shadowy government agent William Parcher (Ed Harris) and his secret mission with the Pentagon. It is here that he comes in contact with psychiatrist Dr Rossen (Christopher Plummer). Nash suffers delusions when he is asked to decode Russian messages about a secret bomb. Then comes the hallucinations and the one-time genius is reduced to mediocrity. But it is heartening to see his former colleagues rally around him. Actually the madness sequences are very much like Dustin Hoffman in Rain Man. Alicia too is in a quandary. Should she go on with the marriage? It is a tense situation but Nash needs to discover more than his half measure of heart.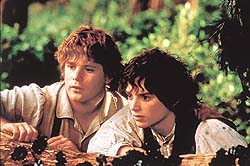 A scene from the Lord of the Rings
It is a brilliantly conceived film thanks to an imaginative screenplay by Akiva Goldsman and director Ron Apollo 13. Howard virtually has his viewer like a puppet on a string from the word go. The passage of time from the 1940s to the 1990s when Nash wins the Nobel Prize is handled superbly. But it is actually the brilliant performance by Russell Crowe as the eccentric genius that makes the film so believable. It could well have won him a back-to-back Best Actor Oscar (last year he won it for Gladiator) but because they decided to appease the Blacks, may be in the light of September 11, Denzel Washington got it. Jennifer Connelly does well with the emotional scenes as the distraught wife and picked the Best Supporting Actress in the bargain. Ed Harris has precious little to do but the cameos by Josh Lucas, Adam Goldberg and Paul Bettany help in this compelling, thought-provoking human drama.
Hollywood's obsession with fairy tales continues and director Peter Jackson does well to recreate J.J.R. Tolkein's world of fantasy in The Lord of the Ring. The Fellowship of the Ring," the first of a three-part project but these hobbits and monsters and the age-old good versus evil theme is virtually drowned in tonnes of FX and a sort of never-ending story.
It is Hobbit territory, home of our hero-in-waiting Froddo Baggins (Elijah Wood). Like the other diminutive denizens of this idyllic village, Frodois pint-sized furry-footed and quite happy-go-lucky. That is till he inherits a magic ring from his old uncle (Ian Holm). The ring is capable of corrupting anyone who wears it and is being coveted by the forces of evil.
It is now up to Frodo and his young friends to thwart this. But it is long road Frodo has to traverse filled with adventure and weird creatures including a pipe-putting wizard (Ian McKellen), a heroic swordsman (Viggo Mortensen) and a hot-headed dwarf (John Rhys-Davies).
And just in case you think there are no women in the film you find traces of them in a couple of ethereal elf-women (Cate Blanchett and Liv Tyler).
May be director Jackson has to stick close to Tolkein's story but to keep the viewer going for nearly three hours is Mission Impossible. With interest flagging before the Intermission the film plods on almost innocuously like a never-ending story. Like The Mummy and other more recent adventure films it is horror-for-horror's sake. Tolkein fans may at best sit through it hopefully but it surely isn't my cup of tea, and that's putting things mildly.
* * *
Black is Beautiful seems to have been the guiding light of this year's Academy of Motion Picture Arts and Sciences Awards, the Oscars and it was the first time in its 74-year history that a Black woman, Halle Berry, won the Best Actress Oscar. Denzel Washington won the Best Actor Oscar and veteran Black actor Sidney Poitier won an honorary Oscar. May be September 11 had led to some introspection.
But as usual Oscar's night was packed with glamour and razzmatazz. Designer gowns with plunging necklines and see-through tops vied with close cropped men's hairstyles, Julia Roberts in an Armani looked fetching and so did Halle Berry but Ali MacGraw was almost unrecognisable. "Luscious in lilac" was how the electron media described one of them and as usual the stars made a splash. Denzel Washington, Ethan Hawke and Uma Thurman, Will Smith, Cissy Spacek, six times nominee for Best Actress Oscar, but never a winner. Not even this time.
Compere Whoopi Goldberg's entry from the ceiling, trapeze style was impressive. Veteran Donald Sutherland and Glenn Close were backstage but got enough of the limelight as did scores of Hollywood celebrities. But for me the best part of the function has often been the clips of nostalgic old films and old music which Hollywood is adept at regurgitating.
This time the venue was changed and it was back to Hollywood and the New Kodak Theatre but it was only a location change the menu for celebration was the same and it all went as smoothly as ever. The acceptance speeches were very much the same, so was the emotion some showed and it was good the see a wide variety of the Hollywood animal from the old and distinguished to the young bulls and starlets in the arena.
I was glad to see A Beautiful Mind pick up the major Oscars including the Best Picture, Best Director Ron Howard, Best screenplay Avira Goldsman and Best Supporting Actress Jennifer Connelly. It would have been said if The Lord of the Rings: The Fellowship of the Ring" had to dig into their territory. The 13 nominations it got proved to be a red herring in true Hollywood whodunit style and having seen both the films I firmly believe that "The Lord..." is much overrated.
But all that is part of the Oscars scenario. They may claim not to lobby and that their vote is sacred but don't we all know better, the surprise winners over the years and how they appease stars who have never won it? It was surprising to see Woody Allen on the scene because he is the one who studiously avoids such shows. But since they were paying a tribute to New York after September 11 they decided to invite him though his films are as much based in New York as Martin Scorcese and Paul Mazursky.
The clips of the New York films were excellent beginning with Marlon Brando and Lee J. Cobb in On the Waterfront to the lesser known Dog Day Afternoon and that modern musical Saturday Night Fever with the young Travolta doing his opening sequence walk to the strains of Stayin Alive and Shirely MacLaine and Jack Lammon in The Apartment and Cary Grant and Deborah Kerr atop the Empire State Building in An Affair to Remember And all this could not be complete without Liza Minnelli belting that classic number New York, New York So much for the impact of September 11.
But I still think this salute to the blacks was also a byproduct of that event and what better way to honour a Black than veteran 75-year-old Sidney Poitier who has been associated with Hollywood for the last 53 years, having picked an Oscar for Lilies of the Field and here again the clips brought many a lump to an old throat with films like In the Heat of the Night (Director Walter Mirsch was there with Piotier on the stage), To Sir With Love. The Defiant Ones and Guess Who's Coming to Dinner among them. There were some who scoffed at him as "Who's That Phoney Actor" and said he projected the goody, goody Black and the white man would have him. But then that was all in the process of getting a foot into the door. He paved the way for the Spike Lees and John Singletons of today. And the way the blacks like Halle Berry, Denzel Washington, Will Smith and company rallied around him it was hair-raising. His family too was there and no one ever knew he had six daughters.
Arthur Hiller of Love Story fame won a humanitarian award and the frail, long-haired veteran was as gracious as ever by saying "it's so embarrassing to win an award for doing what one should be doing." Wish the other Hollywood moguls feel the same.
And then my favourite director Robert Redford also won an honorary Oscar. Again, the clips were so moving. I've seen almost every film he has been in from This Property Is Condemned to the more recent Spy Game is but excellent though he is as an actor even better director with films like Ordinary People, The Milagro Beanfield War, Quiz Show and A River Runs Through It. and he surely makes more meaningful films than Hollywood does. For that it is a healthy sign that Hollywood decided to honour him. Then there was a medley of film music beginning with As Time Goes By, onto Lara's Theme and other immortals. And what about the clip of the Zorba dance in the tribute to Anthony Quinn? One couldn't ask for more.
But back to the present and I thought that Halle Berry's acceptance drama was natural, even spontaneous. More so than Julia Roberts last year for the best Actress Oscar in Erin Brokovich.. After all she was the first Black to win that coveted award and she remembered the blacks of yesteryear like Dorothy Dandridge the great dancer of Porgy and Bess.
Last year's Best Supporting Actor Oscar Benicio El Torro was the first presenter and what a string of personalities they were Ryan O'Neal and Ali MacGraw entered to the strains of Love Story but Ryan O'Neal was more easily recognised. Josh Hartnett, Ethan Hawke, Jennifer Lopez and Gwenyth Paltrow made up the younger ones component and some of the oldies like Charlton Heston and Kirk Douglas didn't seem to be there.
But when one saw the original Prof Nash Jr in the audience it was a hint that A Beautiful Mind would get some of the major Oscars.
Julian Fellows, who won an Oscar for the Best Original Screenplay in Gosford Park went overboard calling the United States "the most generous nation on earth" but Randy Newman who got an Oscar for the best song, made up for it by saying he was humiliated enough in the past. Ironically the song for which he got it was "If I Didn't Have You" from Monsters Inc.
Our own Lagaan failed to a Bosnian film, No Man's Land. In fact, Hollywood makes up for their political misdemeanours by giving awards to such films.
But like we couldn't see Shekhar Kapoor when he was nominated for Elizabeth one had to strain hard to catch a glimpse of Aamir Khan and company in the audience.
The show went on and on and Whoopi Goldberg did a fine job and even Billy Crystal would have been proud of her. And so ended yet another Oscars Night Show.