Sisterly devotion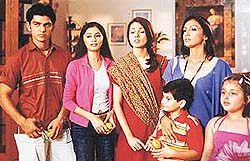 Par Is Dil Ko Kaise Samjhaye ... Marital Woes.

It's the stuff many Bollywood potboilers are made of romance, marriage, separation, death and ensuing misunderstandings.
Par Is Dil Ko Kaise Samjhaye on Sony Entertainment Television every Friday at 8.30 p.m. is the tired old story of two sisters but with a twist in the tail. When their parents die Neelam brings her kid sister Aarti to her husband's house. The family welcomes her. After educating Aarti, Neelam gets her married to a young man in Canada.
But their world spins out of control when Aarti's husband dies in a freak accident. Then Neelam too meets with an accident and is presumed dead. Aarti comes back and tries to fill the vacuum of her elder sister by taking care of her children. As time goes by and social pressures mount, she gets married to her sister's husband.
And then they discover Neelam is alive. She comes back home and discovers that younger sister Aarti is married to her husband. Will they live together with one husband? Or will they be torn apart by fate?
Find out how the relationship between these sisters takes a dramatic turn in this tantalising tale of changing fortunes.
Showtime folks
Television, he says, hasn't taken him anywhere. After doing serials like A Mouthful Of Sky. Vakaalat, Daayra, Margerita Captain Vyom and Noorjehan Milind Soman is still where he began as an actor — on the starting blocks.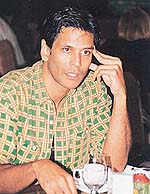 Milind Soman .... Laying down the terms of endearment

Even as other models like Arjun Rampal and Dino Morea have signed a slew of movies, Milind's macho looks have not got him success. But now, he is re-inventing his sagging acting career with good roles. After a gap of years, he is again back on the big screen.
Made by director Mani Shankar, 16 December is a date that sets off an intense manhunt in search of a faceless terrorist who has revenge on his mind. Revenge for the surrender of Pakistan Eastern command to India on December 16, 1971 when Bangladesh was born.
"The plot will have you on the edge of your seats throughout the film," says Milind, who finally seems comfortable in his role as a star. Does this movie mean that he's bidding goodbye to TV? No, he says, "A good role is a good role whether on TV or big screen."
The only difference is that initially he picked up any role that caught my fancy. But not any more. Now he's choosy. "Most of the serials that I've done were not run-of-the-mill. Even my video for Alisha Chinai's Made in India was hugely successful. I may be late as an actor, but I am definitely not out. I want to make up for lost time."
And if his track record as a model is anything to go by, it will certainly be action time on the big and small screens.
Shah Rukh Magic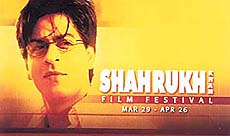 Sony Max's tribute to Shah Rukh Khan ... Intense actor

Shah Rukh Khan, Brash, boyish, confident and super-successful superstar. As powerful as Amitabh Bachchan, as intense as Dilip Kumar and as entertaining as Dev Anand. An actor so talented that he's won awards for not just best actor, but also best villain! As a tribute to the gifted actor, Sony Max presents a film festival of hand-picked films of Shah Rukh that showcase the actor as the romantic hero of the new millennium who has given a series of hits.
Watch Shah Rukh Khan every Thursday and Friday on April 11, 12, 18, 19, 25 and 26, create magic on the small screen with films like O Darling Yeh Hai India, Dil To Pagal Hai, Koyla, Darr, Karan Arjun and the ultimate, Kuch Kuch Hota Hai.
The key to his brilliant performances in these movies lie in his simple approach to work, "I am genuine. I don't fake my emotions," he says and adds, "I get so deeply engrossed in my work that it is hard to dissociate myself from my character." Which explains why his chemistry especially with Kajol sizzles so much on screen.
Spell binding
In the era of Harry Potter and Lord of the Rings it was just a matter of time before a television series was made on sorcery and magic.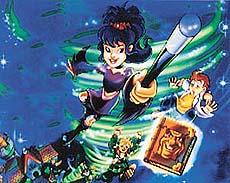 A scene from The Ultimate Book of Spell: Magic & sorcery

So, if you are hooked to the supernatural don't miss the toon series The Ultimate Book of Spells on Sabe TV Monday through Friday at 7 p.m. — a slot dedicated to kids and people who watch cartoons. This is a highly imaginative new series and follows the magical adventures of three gifted" kids, Cassy, Gus and Verne, who stumble upon the all-powerful Utimate Book of Spells. This special book takes them to astonishing journeys to the centre of the earth where the ruthless wizard Zarlak dwells along with every kind of fantastical, magical and creepy creature imaginable.
The three young class mates must continually sneak from their enchanted school in Hamburg to this treacherous and bizarre place in order to recover the greatest buried treasure of all time-the world's missing magic.
With the success of Turtle Island and Asterix series behind it, Sabe TV is now pressing ahead the advantage. It's the age of magic and if the United artists can do it with Harry Potter then the Adhikari brothers can do it with The Ultimate Book of Spell!
New discovery
Are you a lady looking for an exotic escape? Or a teenager in search of extreme adventure? Or a man looking for intrigue and intellect? Now you can have all your viewing preferences on Discovery's new programming blocks.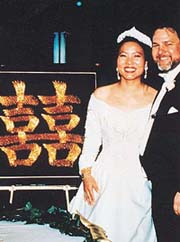 Wedding Story: Women's hour on Discovery

Every noon on weekdays is devoted to the urban women. The series include Wedding Story, which features real-life couples who share their pre and post-nuptial jitters and joys. Great palaces of The World travels the globe to explore the most exquisite estates; and Girl Meets Hawaii, reveals 11 vacation experiences in one paradise island.
For the young people there is the varied Kids Block at 3 p.m. These include Monkey Business and Planet's Funniest Animals, Popular Mechanics for Kids and the cutting-edge series Extreme Machines and Go For It.
Finally, late-night male block airing daily at 9 p.m. has topics ranging from war and aviation to human body and beaches. The series include World's best Kept Secrets Frontiers of Flight Desmond Morris' The Human Sexes, Beach Hour and World's Best. So get set for some cool viewing in the coming summer months.
— Mukesh Khosla