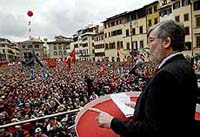 Sergio Cofferati, leader of Italy's largest union, the CGIL (Confederazione Generale Italiana del Lavoro), addresses protesters in Florence's Santa Croce square, where some 300 thousand people took to the streets, during Italy's first full-day general strike in 20 years on Tuesday. The strike was called by the three major unions to protest against Prime Minister Silvio Berlusconi's plans for overhauling the labour market.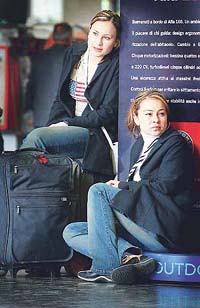 US students Perla Aguirre (L) and her sister Brenda from Park City, Utah, sit on their luggage as they wait at Termini, Rome's main train station on Tuesday. Italy's trade unions brought large swathes of the country to a standstill as they staged their general strike.
— Reuters photos
Reliance slugs it out with L&T, Sun
New Delhi, April 16
Reliance Industries is vying with cement and construction company Larsen & Toubro and Russian consortium of Sun Securities-OAO Stroytransgaz-Gazprom for the Rs 2,450 crore Central India pipeline project, final bids for which are expected by month end.
More cement plants to be set up in HP
Shimla, April 16
The ambitious plan formulated by the government to exploit the state's mineral resources will fetch an annual revenue of over Rs 500 crore by 2010.
Police to prosecute 72 'vanished firms'
Mumbai, April 16
Department of Company Affairs Secretary V.K. Dhall today said police authorities will be approached to launch prosecution against 72 listed companies, which have remained untraceable after a joint probe by DCA and the Securities and Exchange Board of India.
ONGC-IOC to make joint bid for IPCL
New Delhi, April 16
India's largest refiner Indian Oil and upstream oil exploration company Oil and Natural Gas Corporation have decided in principle to bid jointly for government equity in IPCL as part of efforts to diversify and consolidate in the lucrative petrochemical business.
Govt clears 42 FDI proposals
New Delhi, April 16
The government today approved 42 FDI proposals worth Rs 123 crore. One of the biggest investments was that of Astra Pharmaceuticals of Sweden which wanted to invest Rs 82 crore for increasing its equity to 100 per cent in its Indian subsidiary.


| | | |
| --- | --- | --- |
| | ROUND-UP | |
Philips back in black
Amsterdam
Philips Electronics NV reported on Tuesday a surprise first-quarter 2002 net profit of 9 million euros, in what appeared to be a turnaround from last years's record loss as the its key markets showed recovery.
GE Capital to lay off 7,000 workers
Vanilla Coke launch on May 15