Friday, April 19, 2002, Chandigarh, India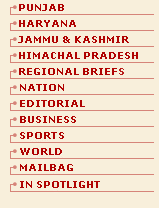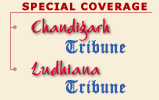 S P O R T S
Ratra likely to make Test debut
Port of Spain, April 18
The return of Harbhajan Singh and the injury to Mahendra Nagamootoo may well prove to be the decisive factor as India and West Indies go into the second cricket Test here tomorrow.
India's offspinner Harbhajan Singh practices at the Queen's Park Oval on Wednesday. — AP/PTI photo
Expert comments — Michael Holding
This pitch looks more bowler friendly
The first Test is now over and although almost a day and a half was lost to the weather, by then, almost everyone had been resigned to the fact that it was heading for a draw. On the most docile pitch in the Caribbean, the two teams, after a few initial problems against the new ball, showed off their batting prowess, amassing almost 900 runs for the loss of just 17 wickets.
Kiwis arrive amid tight security
Karachi, April 18
New Zealand cricket captain Stephen Fleming and manager John Dykes today said safety fears in Pakistan would not affect their team's performance, after they arrived here under heavy guard.
Karnataka XI defeat SRC
Mumbai, April 18
Goalkeeper Bharath Chetri was star of Karnataka XI's win via tie-break over Sikh Regiment Centre, Ramgarh 3-0 in the second round of the Bombay Gold Cup Hockey Tournament at the Mahindra Stadium here today.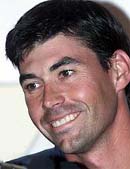 New Zealand skipper Stephen Fleming smiles during a news conference in Karachi on Thursday. Fleming expressed his satisfaction over the security arrangements made by Pakistan authorities during their 24-day tour.
— Reuters
Harbhajan fit for second Test
April 18, 2002
Indians rue missed chances
April 17, 2002
Rain forces early draw
April 16, 2002
Dravid guides India to safety
April 15, 2002
India receive early shocks
April 14, 2002

Carl Hooper slams double century
April 13, 2002


Hooper's ton gives Windies head start
April 12, 2002

Uncertainty over Harbhajan
April 11, 2002