Commission to probe 'misdoings' of Badal govt
Chandigarh, April 23
The Punjab Government today ordered the setting up of a one-man commission of inquiry to probe "irregularities, illegalities, corruption and other misdoings" of the previous government headed by Mr Parkash Singh Badal.
THE TRIBUNE MAGAZINES
On Mondays

On Sundays
On Saturdays

IN PASSING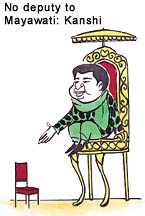 BJP partners will get due respect!

by Sandeep Joshi
African envoys' visit called off
New Delhi, April 23
The unstopping communal frenzy in Gujarat has dealt still another diplomatic blow to India as because of this a three-day visit by Ambassadors of 20 African countries to Srinagar, which was scheduled to begin tomorrow, has been called off.
Border farmers on razor's edge
Indo-Pakistan Border, April 23
Caught between the devil and the deep sea, a large population of the border belt including Amritsar, Gurdaspur and Ferozepore have been living a life of penury because of stand off between India and Pakistan in the aftermath of December 13 attack on Parliament.
In video (28k, 56k)






Crops go up in flames in mine blasts in a border village of Amritsar district.
— Photo Rajeev Sharma
Rattan reverses Ahluwalia's decision
Affiliation to 15 IT institutes to go
Patiala, April 23
In the first major reversal of a policy decision of ousted Punjabi University Vice-Chancellor Dr Jasbir Singh Ahluwalia, the new incumbent has made his intention clear to withdraw affiliation to all Information technology institutions recognised by the university before the start of the next academic session.
In Health Tribune today

Ahluwalia sacked as VC
April 23, 2002

13 killed, curfew in Gujarat areas
April 22, 2002

NDA not a divided house: Vajpayee
April 21, 2002

PM dares Oppn to table no-trust move
April 20, 2002

BJP Parliamentary Board to decide on UP Govt
April 19, 2002

Gujarat Cabinet puts off decision on elections
April 18, 2002

TDP writes to LS Deputy Speaker
April 17, 2002

NDA crisis blows over
April 16, 2002

TDP stops short of withdrawal
April 15, 2002

Remove Modi, insists TDP
April 14, 2002