Sunday, April 28, 2002, Chandigarh, India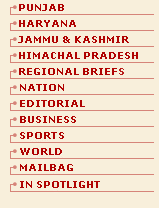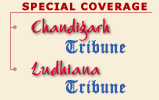 B U S I N E S S
| | | |
| --- | --- | --- |
| | CORPORATE NEWS | |
Aksh Optifibre net slips to Rs 19 crore
New Delhi, April 27
Aksh Optifibre has achieved a profit before tax of Rs 23.65 crore for the financial year ending March, 2002, as against Rs 20.92 crore during the previous year reflecting a growth of 13 per cent.
Haryana biotech policy in a month
Kolkata, April 27
Haryana Government will announce within a month a comprehensive policy to promote the biotechnology sector. "We are working on a comprehensive biotech policy and will announce it in a month. It will cover all aspects like intellectual property rights and patent laws," Chief Minister Om Prakash Chautala said here today.


Q: We run a rice-sheller being a dealer registered under Section 19 of the Haryana General Sales Tax Act, 1973 and sub-section (2) of Section 7 of the Central Sales Tax Act, 1956 in Haryana. Last month a consignment of rice was dispatched to a Delhi based agent for sale on commission basis there.


GlaxoSmithKline net zooms 49.14 pc
April 27, 2002
Allow IOC to bid for HPCL, BPCL: committee
April 26, 2002
Satyam net spurts 55.02 per cent
April 25, 2002
Reliance Ind net rises 6.35 pc
April 24, 2002
Hughes Software net drops 17 pc
April 23, 2002
Youths embrace high-power bikes
April 22, 2002
Indian economy stable & secure: Sinha
April 21, 2002
Wipro posts higher revenue, profit
April 20, 2002
IMF puts India's economic growth at 5.5 pc
April 19, 2002
China no immediate threat to
Indian IT
April 18, 2002