Saturday, April 27, 2002, Chandigarh, India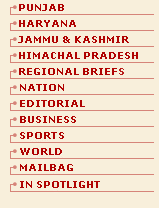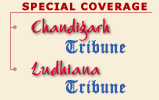 B U S I N E S S
| | | |
| --- | --- | --- |
| | CORPORATE NEWS | |
GlaxoSmithKline net zooms 49.14 pc
Mumbai, April 26
GlaxoSmithKline Pharmaceuticals has posted a 49.14 per cent rise in the net profit at Rs 22.79 crore for the first quarter ended March, 2002, compared to Rs 15.28 crore for corresponding period last year.
SKF Bearings
Aftek Infosys

Industry welcomes changes in Finance Bill
New Delhi, April 26
Apex chambers of Indian industry and commerce today welcomed the amendments with regard to direct and indirect taxes in the Finance Bill.
RBI okays ICICI, ICICI Bank merger
Mumbai, April 26
The Reserve Bank of India today approved the merger between ICICI Ltd and ICICI Bank, paving the way for the merged entity to become the second largest bank in the country in terms of assets after the State Bank of India.
Govt to disband BIFR
New Delhi, April 26
The Board of Industrial and Financial Reconstruction, entrusted with the job of assessing and suggesting revival packages for sick Public Sector Units, will be disbanded as it had failed to deliver goods, Union Heavy Industries and Public Enterprises Minister Manohar Joshi announced in Parliament today.
Allow IOC to bid for HPCL, BPCL: committee
April 26, 2002
Satyam net spurts 55.02 per cent
April 25, 2002
Reliance Ind net rises 6.35 pc
April 24, 2002
Hughes Software net drops 17 pc
April 23, 2002
Youths embrace high-power bikes
April 22, 2002
Indian economy stable & secure: Sinha
April 21, 2002
Wipro posts higher revenue, profit
April 20, 2002
IMF puts India's economic growth at 5.5 pc
April 19, 2002
China no immediate threat to
Indian IT
April 18, 2002