Saturday, April 27, 2002, Chandigarh, India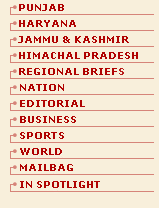 C A L E N D A R
Saturday, April 27, 2002
Vikrama Samvat
2059
Vaishakha
15
Shaka Samvat
1924
Vaishakha
7
Hijri
1423
Safar
13

Chaitri Poornima up to 8-30 a.m.
The fifteenth lunar day of the bright half of chaitra.
Pratipada obliterated (Tithi Kshaya)
Swati Nakshatra up to 8-10 p.m.
The sun enters Bharani at 7-0 p.m.
Beginning of Vaishakha ablution
Hanuman Jayanti (South)
Salasar Fair (Rajasthan)
Sarvartha Siddhi yoga up to 8-10p.m.