Saturday, April 27, 2002, Chandigarh, India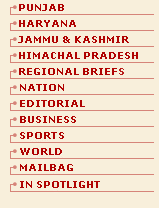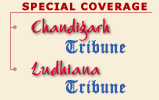 N A T I O N
Sonia announces Cong's economic agenda
New Delhi, April 26
Congress President Sonia Gandhi today chose the platform of the Confederation of Indian Industry to make an implicit political statement that the party was preparing to bounce back to power.
In video (28k, 56k)



Congress President Sonia Gandhi and CII president Sanjiv Goenka share a lighter moment during the CII National Conference and Annual Session in New Delhi on Friday.
— PTI photo
Jehadis behind Godhra carnage: report
New Delhi, April 26
A study team of the Council for International Affairs and Human Rights, which recently toured Gujarat, has concluded that burning alive of 58 pilgrims on February 27 at Godhra was an "act of international terrorism planned and executed in connivance with jehadi forces based there."
Ansari, 14 others chargesheeted
Kolkata, April 26
The Kolkata police today charge-sheeted Dubai-based don Aftab Ansari and 14 others in connection with the terrorist attack on the American Center here on January 22.
IAF sends a message loud and clear
New Delhi, April 26
In moving Air Marshal V.K. (Jimmy) Bhatia, the former AOC-in-C of the Western Air Command (WAC) to the Air Headquarters as Inspector General (Flight Safety), Chief of the Air Staff, Air Chief Marshal S. Krishnaswamy has sent out a message loud and clear to all in the IAF— "rules are the same for all and indiscipline will not be tolerated."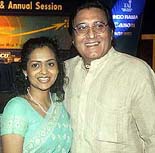 Film star and Member of Parliament Vinod Khanna with his wife at the CII National Conference and Annual Session in New Delhi on Friday. — PTI

India does not need sermons: PM
April 26, 2002
Panel to probe if Godhra was pre-planned
April 25, 2002
Oppn urges NDA allies to vote against govt
April 24, 2002
End deadlock, Oppn urged
April 23, 2002
Cong, minority leaders meet George
April 22, 2002
UP BJP leaders lobby for posts at Centre
April 21, 2002
Tie-up move fails to enthuse BSP MLAs
April 20, 2002
Muslim BSP MLAs for pact with BJP
April 19, 2002
Minorities look for 3rd alternative
April 18, 2002
ISI bid to revive Punjab terrorism: report
April 17, 2002