Cut in CRR, bank rate unchanged
Mumbai, April 29


A reduction of 0.5 percentage point in cash reserve ratio to infuse an additional liquidity of Rs 5,000 crore combined with several prudential measures to make the bank credit attractive to the borrowers at competitive rates were among the major decisions announced by the Reserve Bank of India in its annual monetary and credit policy today.

Finance Bill passed
New Delhi, April 29
The Lok Sabha tonight passed the Finance Bill, 2002 after union Finance Minister Yashwant Sinha rejected the demand for further rollback of tax proposals.
THE TRIBUNE MAGAZINES
On Mondays

On Sundays
On Saturdays

IN PASSING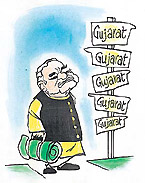 Oh God, all roads lead to Gujarat!
by Sandeep Joshi
Search on for more touts
One SSP paid Rs 3.5 crore
Chandigarh, April 29
The fate of all 91 appointments to the PCS, including 28 to the PCS (Executive Branch) and remaining to the allied services, made during the tenure of Ravi Sidhu as Chairman of the PPSC is uncertain. Also uncertain is the future of those appointed to the PCS (Judicial) during the same period.

Don't confirm appointees: HC
Chandigarh, April 29
Issuing notice of motion to the state of Punjab, the Chief Secretary and Secretary in the Department of Personnel and Administrative Reforms, the Punjab and Haryana High Court today directed the state and its functionaries not to confirm employees on the posts to which they were selected by the Punjab Public Service Commission chairman Ravinderpal Singh Sidhu.

Touts confess paying 16 cr to Ravi Sidhu
Kharar, April 29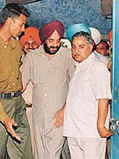 A whopping sum of Rs 16 crore was paid to PPSC Chairman Ravi Sidhu by his two main conduits, Randhir Singh Dhira, a Deputy Manager in Markfed, and Prem Sagar, a petrol pump owner, for the selection of 28 candidates to the PCS and allied services during year 2001. Both were arrested by the Punjab Vigilance Bureau sleuths from Chandigarh last night.

Deputy Manager in Markfed, Randhir Singh Dhira and petrol pump owner Prem Sagar, main suspects in the PPSC recruitment scam, being produced in the Kharar court on Monday.
— Tribune photo Manoj Mahajan


---
Scandal in selection of teachers?
Chandigarh, April 29
Ms Nisha Kaura's complaint to the Lok Pal, Punjab, with regard to the selection of science masters has created a sort of "earthquake" in the Punjab Education Department. As things are moving at the moment, it appears that many heads may roll once the inquiry is completed and the report submitted by the Lok Pal to the authorities concerned.

---
Fernandes, Modi lead peace march
April 29, 2002

Decks cleared for BSP-BJP govt
April 28, 2002

Sinha relents, gives sops to salaried class
April 27, 2002

Mayawati to be UP CM
April 26, 2002

Sidhu helped people at Badal's behest: Jagman
April 25, 2002

Censure move on Gujarat admitted
April 24, 2002

Ahluwalia sacked as VC
April 23, 2002

13 killed, curfew in Gujarat areas
April 22, 2002

NDA not a divided house: Vajpayee
April 21, 2002

PM dares Oppn to table no-trust move
April 20, 2002