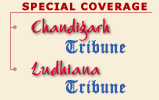 Admit motion against George, say Oppn MPs
New Delhi, May 6
The Opposition maintained pressure on Defence Minister George Fernandes asking Deputy Speaker P.M. Sayeed today to admit a privilege motion against him for what they called his unwarranted remarks on rape against women and that he be reprimanded by the Lok Sabha.
Ten hurt in bus bomb blast
Explosion near mosque triggers violence
Godhra (Gujarat), May 6
As many as 10 persons, including three women and an infant, were injured, five of them seriously, when a countrymade bomb exploded in a Gujarat State Road and Transport Corporation bus at Lunavada bus stand, nearly 40 km from here, this afternoon.
In Education Tribune today

THE TRIBUNE MAGAZINES
On Mondays

On Sundays
On Saturdays

IN PASSING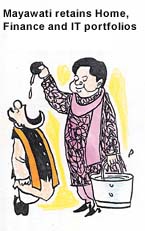 by Sandeep Joshi
Yangon, May 6
Nobel peace laureate Aung San Suu Kyi was freed today from 19 months of house arrest in Myanmar and told hundreds of rapturous supporters that she would carry on her fight to bring democracy to the military ruled country.

Myanmar opposition leader Aung San Suu Kyi makes her way through a massive crowd as she arrives at the party headquarters of the National League for Democracy on Monday after being released from house arrest in Yangon. — AP/PTI photo
Amarinder perking up economy
To meet NRIs keen on investing
New Delhi, May 6
Keen on putting the state back on a fast-paced development mode, the Punjab Chief Minister, Capt Amarinder Singh, has been holding series of meetings with captains of industry and NRIs keen to make investments in the core economic sectors.
EC's no to use of EVMs
Punjab municipal elections notified
Chandigarh, May 6
The Election Commission has turned down the request of the Punjab State Election Commission to allow the use of electronic voting machines (EVMs) in the May 19 Municipal Corporation elections at Amritsar, Jalandhar, Ludhiana and Patiala, a formal notification for which was issued today.
Justice Kirpal takes over as CJI
New Delhi, May 6
Mr Justice Bhupinder Nath Kirpal today took over as the new Chief Justice of India (CJI) after President K.R. Narayanan administered oath of office to him at an impressive ceremony at the Ashoka Hall in Rashtrapati Bhavan.


Scam stink from school labs?
Chandigarh, May 6
The Punjab Vigilance Bureau has now been entrusted with a probe into the purchase of glassware and chemicals worth more than Rs 3.50 crore made shortly before the closing of the financial year 2001-02.
Ahmedabad burns again: 7 dead
May 6, 2002

Peace prevails as Gill takes charge in Gujarat
May 5, 2002

8 die in MiG-21 crash
May 4, 2002

Oppn rips off govt on Gujarat
May 3, 2002

Censure move defeated in LS
May 2, 2002

Oppn guns for Modi
May 1, 2002

Paswan quits, parts ways with NDA
April 30, 2002

Fernandes, Modi lead peace march
April 29, 2002

Decks cleared for BSP-BJP govt
April 28, 2002

Sinha relents, gives sops to salaried class
April 27, 2002

Mayawati to be UP CM
April 26, 2002

Sidhu helped people at Badal's behest: Jagman
April 25, 2002

Censure move on Gujarat admitted
April 24, 2002