THE TRIBUNE MAGAZINES
On Mondays

On Sundays
On Saturdays

Ahluwalia grilled for 5 hours
Photos culled from ex-VC's computer
Patiala, May 10
L' affaire Ahluwalia took a new turn today with the police reportedly culling nude photographs from the personal computer of ousted Vice-Chancellor Jasbir Singh Ahluwalia which were shown for identification to Saru Rana, who is a complainant in an attempt to rape case filed against him.
More Hizb chiefs expelled
Srinagar, May 10
Five days after the Hizbul Mujahideen expelled former commander Abdul Majid Dar, it has come out with the expulsion of two more divisional commanders operating in the Kashmir valley.
Two Lashkar ultras killed in Delhi
New Delhi, May 10
The interrogation of three terrorists arrested last night by the Delhi police following an encounter in which two of their associates were killed has revealed that they were planning to strike at VIP targets in the Capital.


In video (28k, 56k)
Kaifi Azmi is no more


Mumbai, May 10
Kaifi Azmi, a renowned Urdu poet and recipient of the Sahitya Akademi Fellowship, died here this morning after a prolonged illness, Jaslok Hospital sources said. Kaifi is survived by wife Shaukat, actress daughter Shabana and a son.
Editorial: Kaifi Azmi
In Sports Tribune today

IN PASSING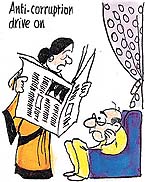 Who will serve the people if corrupt individuals are punished!
by Sandeep Joshi
Death by suffocation confirmed
New Delhi, May 10
Ritu Singh, daughter of senior Congress leader Natwar Singh, who reportedly committed suicide by hanging herself in her bedroom last evening was cremated today at the Lodhi Road crematorium here.


2 children die of sunstroke
Chandigarh, May 10
The oppressive heat wave, sweeping through the north-west region for the past three days has claimed the lives of two children in Punjab. With day temperatures reigning 4°C to 7°C above normal at many a place and keeping in view scorching summer heat, timings of all government and private schools in Faridkot district have been changed from tomorrow.



In Video: Severe heat wave, which continues unabated in Rajasthan, claims 12 lives in Jodhpur city.
(28k, 56k)


A boy cools himself under a broken water pipeline in Bhopal on Friday. The temperature has reached reached 46°C in the city. — Reuters
RAVI SIDHU CASE
Security cover for Bhupjit, Munjal
Chandigarh, May 10
Realising their importance as key links as well as their vulnerability to threats which may even lead to physical harm, the Intelligence Wing of the Punjab police has decided to provide security cover to both Mr Bhupjit Singh, the main complainant, and his friend, Mr Chander Mohan Munjal, in the PPSC recruitment scam.

Punjab page:
Jaguar crashes at Ambala
May 10, 2002

'Right to information cannot be curtailed'
May 9, 2002

Jaswant scoffs at foreign prescription
May 8, 2002

Satyameva Jayate, assert advocates
May 7, 2002

Ahmedabad burns again: 7 dead
May 6, 2002

Peace prevails as Gill takes charge in Gujarat
May 5, 2002

8 die in MiG-21 crash
May 4, 2002

Oppn rips off govt on Gujarat
May 3, 2002

Censure move defeated in LS
May 2, 2002

Oppn guns for Modi
May 1, 2002

Paswan quits, parts ways with NDA
April 30, 2002

Fernandes, Modi lead peace march
April 29, 2002