Sunday, May 12, 2002, Chandigarh, India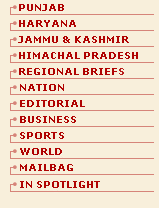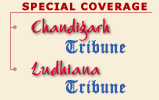 B U S I N E S S
Punjab to bring economy out of red
Bathinda, May 11
To put the shattered economy of the state back on the rails and to bring farmers out of the vicious circle of perpetual debt, the Punjab Government has decided to introduce a new model of development by involving agriculturists, industrialists, PAU and the government itself into a single institution.
Chautala invites Nepalese investors
Kathmandu, May 11
India and Nepal should establish joint ventures and promote industrial cooperation to enhance bilateral trade and commerce, Haryana Chief Minister Om Prakash Chautala said.


Home Trade CEO surrenders
Nagpur, May 11
Home Trade CEO Sanjay Agarwal, wanted in connection with Rs 150-crore gilt scam involving Nagpur District Central Cooperative (NDCC) Bank, was today remanded in police custody till May 14 after he surrendered before the police here even as CBI registered a case against him and two others in Mumbai.
CST Amendments to hit industry
The Central Sales Tax Act, 1956 that governs the levy of tax on the transactions involving inter-State sales is proposed to be amended. Introducing in Lok Sabha The Finance Bill, 2002 (Bill No. 6 of 2002) in the recent past, the Union Finance Minister proposed drastic amendments to the existing provisions of the Central Sales Tax Act, 1956.
Now fuel from grass, straw
London, May 11
Running cars on grass may sound a bit strange now, but very soon "green fuels" made out from farm wastes such as grass and straw can become the fuel of the future.
UTI declares dividend
Mumbai, May 11
Unit Trust of India had declared dividend for five of its plans, including MIP 2001 and MIP 2000 (II), for the fiscal 2002-03.
Graphic: JOB-SEEKERS — Number of Job-seekers on the Live Register of Employment Exchanges as on 31-01-2002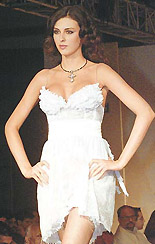 A model displays an outfit during the first day of the New Delhi International Fashion Week. Leading fashion designers from nine countries, including India, are showcasing their latest collections.
— Reuters

Industrial growth dips
May 11, 2002
Bank rate cut if required: Jalan
May 10, 2002
Oil breaches $27 as US stocks fall
May 9, 2002
Basic operators can offer WLL: SC
May 8, 2002
Govt to lease out 4 airports soon
May 7, 2002
Cut in interest rates hits retirees
May 6, 2002
Co-op banks should adhere to G-secs norms: RBI
May 5, 2002
M.S. Oberoi: zeal for life never flagged
May 4, 2002
Grasim net profit down 19.83 pc
May 3, 2002
Exports fail to achieve target
May 2, 2002