Sunday, May 5, 2002, Chandigarh, India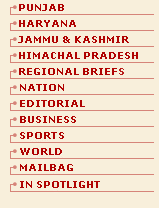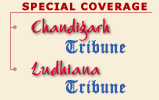 B U S I N E S S
Co-op banks should adhere to G-secs norms: RBI
Mumbai, May 4
The Reserve Bank of India (RBI) today said that the co-operative banks should strictly follow the guidelines laid down for transacting in government securities (G-secs).
In the wonderland of investment
Q: A company has not paid salary since April 2001. The company has been registered with BIFR and there are no chances of any further payment of salary if and when a new management takes over the company.
Are contact lenses better than glasses?
Chandigarh, May 4
"Men don't make passes
At women who wear glasses"


Compassionate grounds
Q: Is it appropriate to disturb the state of affairs when respondent was appointed on compassionate ground and is in service for more than five years?


Q: Should I buy Goodlass Nerolac?

Q: I have invested in Bharat Forge. What should I do?
M.S. Oberoi: zeal for life never flagged
May 4, 2002
Grasim net profit down 19.83 pc
May 3, 2002
Exports fail to achieve target
May 2, 2002
Kesoram Ind net falls 11 pc
May 1, 2002
Wockhardt net grows 36.99 pc
April 30, 2002
Enjoy your vacations economically
April 29, 2002
Aksh Optifibre net slips to Rs 19 crore
April 28, 2002
GlaxoSmithKline net zooms 49.14 pc
April 27, 2002
Allow IOC to bid for HPCL, BPCL: committee
April 26, 2002
Satyam net spurts 55.02 per cent
April 25, 2002
Reliance Ind net rises 6.35 pc
April 24, 2002