Sinha's rebuttal not satisfactory: Cong
New Delhi, May 16
The Congress today said that Finance Minister Yashwant Sinha had not given a point by point rebuttal to the allegations levelled against him in connection with Flex Industries. He had not disclosed the conflict of interest when Flex Industry official Ashok Chaturvedi was caught in a case related to Finance Ministry.

Govt on life-support system: Sonia
New Delhi, May 16
Congress President Sonia Gandhi today said the Vajpayee government was surviving on "life-support system" and it was the opportunism of National Democratic Alliance partners and the side supporters which had kept the regime going.

Violence in Pak ISI handiwork?
New Delhi, May 16
The recent spurt in militant activities in Pakistan, particularly incidents in which the Americans have been targeted, appears to be the handiwork of Inter-Services Intelligence (ISI) to frighten away the Americans, according to a strategic assessment here.



Stabilising influence of Indo-US military ties
RECENT events have brought upfront the increasing cooperation in defence matters between India and the USA. The long-awaited sale of gun-locating radars for the Indian Army has now fructified. Indian Navy ships are cooperating with the US naval fleet in safeguarding sealanes in the Malacca Straits.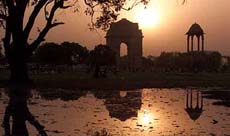 The sun sets over India Gate on a hot evening in New Delhi on Thursday. India at present is suffering from a heatwave with temperatures on a daily basis going up to 40-45 Celsius (104-113 Fahrenheit). — Reuters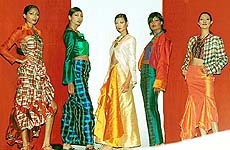 Models pose for photographers at a fashion show organised by NIFT in New Delhi on Wednesday. —PTI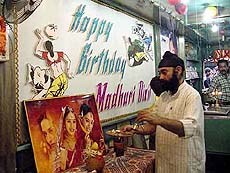 Roadside vendor Pappu, a fan of Bollywood actress Madhuri Dixit, performs puja in front of her poster at Jamshedpur on Thursday. He starts his business with this ritual daily. — PTI
VHP: take action against Pak
New Delhi, May 16
Criticising the Vajpayee government for being in a dilemma over its attitude towards Islamabad, the VHP and the Bajrang Dal today demanded that the Centre should take some concrete action against Pakistan rather than issuing verbal statements.
Jaya upbeat after 1-year party rule
Chennai, May 16
Tuesday was a blackout day in Chennai with a major power breakdown. It was also the day marking the completion of one year of the AIADMK rule, presided over partly by Ms J. Jayalalithaa. Superstitious minds may interpret the blackout as not a good augury, but the Puratchi Thalaivi (revolutionary leader) was in an upbeat mood.
NORTH INDIA IN PARLIAMENT
Keep jathas to Pak in mind: Mann
New Delhi, May 16
Shiromani Akali Dal (Amritsar) President and Lok Sabha MP Simranjit Singh Mann today termed the proposed Haj Bill as a "landmark in India's secular history" and urged the government to keep jathas in mind for June.
No package for PCO owners in J & K
New Delhi, May 16
Six months after STD and ISD call booths were shut down in Jammu and Kashmir due to security reasons, the government today admitted that no rehabilitation package had been worked out for the nearly 1,000 PCO owners who had been affected by the decision.
Bill on permanent lok adalats passed
New Delhi, May 16
With the passing of a Bill by the Rajya Sabha, Parliament today gave its approval for the setting up lok adalats on permanent basis for providing "cheap, quick and consumer-friendly" legally-binding awards to litigants regarding their grievances against public utility services.
JD(U) leader quits
New Delhi, May 16
In a jolt to the BJP ally, Janata Dal (United) General Secretary Mohan Prakash today quit the party, attacking the Vajpayee government on the Gujarat issue, amidst indications that he might join the Congress.