Friday, May 17, 2002, Chandigarh, India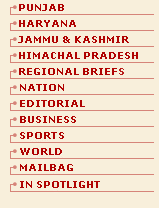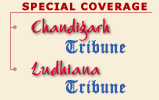 B U S I N E S S
Bank scam a fraud, not failure: Sinha
New Delhi, May 16
The government today asserted that the Maharashtra Cooperative Bank scam involving Home Trade and four other brokers was not due to a systematic failure and that the guilty would be punished with the interest of small investors being fully protected.
Wipro to acquire firm in USA
New York, May 16
Wipro Ltd is looking to buy a large information technology consultancy in the USA, its Chairman Azim Premji has said. Wipro, listed with American depositary receipts on the New York Stock Exchange, is talking to the top management of "a few" US companies, he said in an interview to the Wall Street Journal in London published today.
Set up agri zones, Haryana told
Chandigarh, May 16
The PHDCCI has urged the Haryana Government to create a more conducive atmosphere to attract investments in the IT sector especially to set up call centres and software development projects.
Loan scheme for farm graduates
Shimla, May 16
The Himachal State Cooperative Bank has launched a loan scheme to help unemployed agriculture graduates set up agriclinics and agri-business centres in the state, a spokesman of the bank said today.
Insurance (Amendment) Bill passed
May 16, 2002
Govt hands over Maruti to Suzuki
May 15, 2002
Court grants bail to Reliance President
May 14, 2002
Chinese motor cycles are here
May 13, 2002
Punjab to bring economy out of red
May 12, 2002
Industrial growth dips
May 11, 2002
Bank rate cut if required: Jalan
May 10, 2002
Oil breaches $27 as US stocks fall
May 9, 2002
Basic operators can offer WLL: SC
May 8, 2002
Govt to lease out 4 airports soon
May 7, 2002