Monday, May 20, 2002
On Hardware
Microscopic image on monitor
Tribune News Service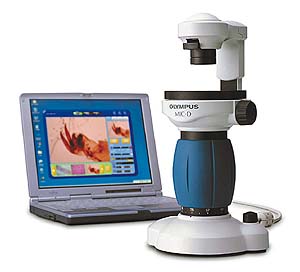 OLYMPUS Optical Co., Ltd. has launched MIC-D, an innovative new digital inverted optical zoom microscope. Rather than observing objects through an optical lens as with conventional microscopes, the MIC-D facilitates observation by enabling users to see images on the monitor of a personal computer connected with a USB cable.
The MIC-D is a learning tool that can be used in conjunction with personal computers, and is thereby perfectly adapted to the IT-oriented educational approaches that are becoming more prevalent. Its numerous commercial and research uses range from natural science observations to applications in the food, textiles, printing and electronics components industries.
The MIC-D is a digital microscope with durable construction, a compact, portable body, and dedicated software that make the microscopic world more accessible and enjoyable than ever. With an optical zoom ratio of 13, as well as built-in basic features crucial to microscopy, such as automatic light control capabilities, the MIC-D is easy even for students to make full use of.