11 Pak troops shot along LoC
14 bunkers, 1 post, 2 watch towers smashed
Jammu, May 22
Eleven Pakistani soldiers were killed and two of their watch towers and 14 bunkers destroyed in the exchange of artillery fire between India and Pakistan along the Line of Control in Rajouri and Poonch districts since late last night.
In Science Tribune today

THE TRIBUNE MAGAZINES
On Mondays

On Sundays
On Saturdays

IN PASSING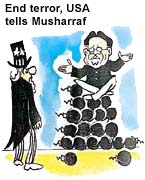 Believe me. I am innocent!

by Sandeep Joshi
India gets Navy ready
New Delhi, May 22
Giving further indication of waging an all-out war against cross-border terrorism, the government has given orders for five of the frontline warships forming part of the Eastern Naval Command to conjoin with the Western Naval Command fleet based in the Arabian Sea.
Nepal's parliament dissolved
Kathmandu, May 22
Nepal's King Gyanendra today dissolved parliament and called new elections for November as the House seemed set to defeat an extension of the emergency rule in the country.
Lone laid to rest


Srinagar, May 22
Thousands of mourners here today attended the funeral procession of senior APHC leader, Abdul Ghani Lone, who was laid to rest at the Idgah graveyard here this afternoon.



Video (28k, 56k)
TRIBUNE FOLLOW-UP
Lokpal indicts Tota Singh
Selection of 100 teachers cancelled
Chandigarh, May 22
The points, regarding the role of money in appointments in Punjab raised by Nisha Kaura, a reader of The Tribune from Ludhiana, have been taken note of as, according to reliable sources, Punjab Lokpal Justice DV Sehgal has not only indicted former Punjab Education Minister Tota Singh but also recommended the cancellation of all 100 selections of science mistresses on the complaint of Ms Nisha Kaura who had questioned the selection process.
Six more Pak soldiers killed
May 22, 2002

Six Pak troops killed
May 21, 2002


Paramilitary forces on LoC, border under Army control
May 20, 2002


Pak told to recall High Commissioner
May 19, 2002


Nation committed to end Pak-backed terrorism
May 18, 2002


Time for action, says Army Chief
May 17, 2002


Badal sought UPSC berth for Sidhu
May 16, 2002

Militants massacre 23 kin of Army men
May 15, 2002

India to expose Pak mischief
May 14, 2002


12 killed in UP rail accident
May 13, 2002