IN PASSING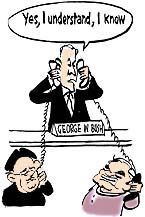 by Sandeep Joshi
Now, fraud in teacher's selection
Cancel panel member's wife's appointment: Lok Pal
Chandigarh, May 29
In another case of alleged fraud in the selections of teachers, the Punjab Lok Pal, Justice D.V. Sehgal, has indicted Raj Singh Deol, Chairman of a selection committee and one of its members, Daljit Singh Brar, Deputy Director, Sainik Welfare, Muktsar, according to informed sources.
Water dispute claims 5 lives
Midhu Khera (Muktsar), May 29
Even as the dust raised by the murder of an SAD leader, along with five others in the Bhikhiwind area in Amritsar district on May 19, allegedly at the instance of Congress leaders, is yet to settle down, the murder of two brothers and their one son each (both Youth Akali Dal activists) and another person by firearms in this village, allegedly at the instance of a Congress leader, this morning has again put a question mark on the law and order situation in the state.


TRIBUNE IMPACT
8500 'suppressed' legal notices found
Building bylaws violation case for Vigilance Bureau
Amritsar, May 29
A day after the publication of news in The Tribune about the blatant violation of building bylaws the Local Bodies Department has detected 8500 more legal notices which were "suppressed" all over the state during the five-year tenure of the SAD-BJP Government and decided to hand over the case to the Vigilance Bureau.
Pak 'epicentre' of terrorism
May 29, 2002
Pak not exporting terror
May 28, 2002
Fulfil pledge, PM tells Pervez
May 27, 2002
Pak test-fires Ghauri
May 26, 2002
Time not ripe for war: Congress
May 25, 2002
We won't allow Pak's proxy war: Vajpayee
May 24, 2002
PPSC scam probe: glaring gaps, 31 'missing' names
May 23, 2002
Six more Pak soldiers killed
May 22, 2002
Six Pak troops killed
May 21, 2002

Paramilitary forces on LoC, border under Army control
May 20, 2002

Pak told to recall High Commissioner
May 19, 2002

Nation committed to end Pak-backed terrorism
May 18, 2002