More principals likely to get notices
Poor showing in class X, XII examinations
Chandigarh, May 31
After penalising principals of government schools for poor performance in the class VIII examination, stage is set for yet another round of show-cause notices by the UT Education Department to heads of government schools for a repeat in the CBSE class X and class XII examinations.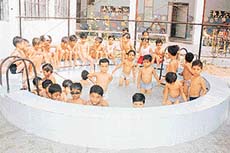 Students of J.P. Bal Niketan Public School, Sector 37, Chandigarh, enjoy a splash in the school pool on Friday.
PU dispatches roll numbers
Chandigarh, May 31
Stage is set for entrance examination for various postgraduate courses in Panjab University. The examination branch has completed all last minute formalities in dispatching the roll numbers and announcing the centres in majority of the cases.
College boys set out on peace mission
Chandigarh, May 31
It is the spirit of adventure that has got the better of three boys of Government College, Sector 11, who have begun their cycle expedition to Khardungla and Nubra valley through Rohtang and Leh.
IPW students display their creations
Chandigarh, May 31
Students of textile designing and fashion designing of the International Polytechnic for Women put their best foot forward when they displayed their entire range of creations like garments, linen, household articles, miniatures, embroideries, kalakaris etc on the school campus in Sector 35-C here yesterday.
School celebrates foundation day
SAS Nagar, May 31
The foundation day of the local DAV Public School was celebrated on the premises of the new building of the school in Phase X, here yesterday.


DISTRICT COURTS
3 accused in bribery case granted bail
Chandigarh, May 31
Three employees of the Controller of explosives office, Sector 22, who have been arrested by the CBI while accepting bribe, were today granted bail by a local court.
Bail granted

Bail in theft case

Bikramjit case adjourned
Panchkula MC poll within 4 months: HC
Chandigarh, May 31
In a significant statement before a Division Bench of the Punjab and Haryana High Court, Haryana's Advocate General yesterday said elections to Panchkula's Municipal Corporation would be held within next four months.
Bar council submits list of fake graduates
Chandigarh, May 31
The Punjab and Haryana Bar Council today submitted a list of "fake" law graduates to the UT Senior Superintendent Police (SSP) demanding the registration of case of cheating and forgery against them.