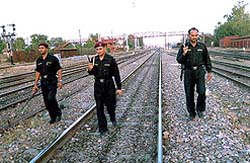 Punjab police commandos patrol the railway track to avoid any untoward incident in view of the militants threat in Jalandhar on Friday. — PTI

Varsity axe falls on two IT institutes
Patiala, May 31
Axe has finally fallen on the controversial Information Technology Institutes, which were touted as vehicles for taking Punjabi University into the new millennium by the ousted vice-chancellor, Dr J.S. Ahluwalia, with the varsity authorities holding both campus-based Maharaja Ranjit Singh Institute of Information Technology and the Damdama Sahib-based Guru Gobind Singh Institute of Information and Technology, as illegal entities.
Langah's aides linked with Dawood
Chandigarh, May 31
After the expose of the links of a former PWD Minister, Mr Sucha Singh Langah with a former militant, Wassan Singh Zaffarwal, the Punjab Vigilance Bureau is learnt to have got vital information about the links of people "close" to the former minister with underworld don Dawood Ibrahim.
Jaswant Singh installed Golden Temple granthi
Amritsar, May 31
Even as Giani Jaswant Singh was installed as granthi (high priest), Golden Temple, the Shiromani Gurdwara Parbandhak Committee today flayed the state government for allegedly promoting certain "anti-Sikh" organisations and sought an immediate ban on the activities of "self-styled babas" who were out to vitiate the peaceful atmosphere of the state.


Bhikhiwind killings: two more arrested
Amritsar, May 31
With the arrest of two more persons the Tarn Tarn police today achieved a breakthrough in the case of murder of Akali leader Gurdial Singh and five others in border town of Bhikhiwind on May 19.
Councillors seek vigilance probe
Bathinda, May 31
Supporting the anti-corruption drive launched by the state government and demanding a vigilance inquiry into benami tenders and other corruption cases pertaining to the local municipal council, Mr Basant Bhatia and Mr Krishan Kumar Garg, both municipal councillors belonging to the BJP today raised slogans against the president of the council.
Motorcycle patrol squad formed
Ropar, May 31
The Ropar police today formed a motorcycle patrol squad to keep vigil round the clock on the national highway from Ropar Headworks to SAS Nagar. The squad will help accident victims and contribute in preventing crimes on this route.
AIATF sends volunteers to MoD
Amritsar, May 31
The All-India Anti-Terrorist Front has sent a list of 1,800 activists to the Ministry of Defence who are ready to sacrifice their lives in the fight against the "proxy war" of Pakistan.
'Doctor' gets 1-year RI
Talwandi Sabo (Bathinda), May 31
The local Subdivisional Judicial Magistrate has sentenced Gurmail Singh Ghai, who was practising as a doctor, to one-year rigorous imprisonment and imposed a fine of Rs 500. The judgement holds significance as more than 100 quacks and unregistered "doctors" are said to be practising in the district alone, posing as qualified doctors.
Cobwebs in yarn mill
Bathinda, May 31
Even as the Punjab Government has not been taking an interest to revive Bathinda Cooperative Spinning Mill (Bacospin) which has been lying closed for the past nine months, its employees, who have not been paid their monthly wages by the authorities concerned for the past seven months, have threatened to launch an agitation shortly.
SYL canal: govt to go by SC verdict
Pathankot, May 31
The Punjab Chief Minister, Capt Amarinder Singh, has said the Congress will sweep the panchayat samiti and zila parishad elections scheduled for June 9. Talking to mediapersons here today, he claimed that the Congress would repeat its performance in the municipal corporation poll.
Captain cremated with honours
Jalandhar, May 31
The mortal remains of Capt Satnam Singh Parmar, who was killed in Dras sector of Jammu and Kashmir during Pakistan firing, were consigned to the flames with full military and police honours at his native village Kaki near here.
DC recommends action against SMO, staff
Kapurthala, May 31
Mr Rakesh K. Verma, Deputy Commissioner, has recommended to the health authorities immediate disciplinary action against Dr Jaspal Singh, SMO in charge, Community Health Centre, Tibba village in Sultanpur Lodhi subdivision, Dr Gurinder Singh, Mr Sat Paul, pharmacist and Darshan Singh, ward attendant, all posted at the centre for dereliction of duty.


Minor abducted, raped
Bathinda, May 31
A minor girl, resident of this city, was allegedly repeatedly raped by Prabhjot Singh with the help of his mother Ranjit Kaur and sister Rishu, all residents of Jalandhar, after the victim was allegedly kidnapped by them from the Mall road here on February 18.
Six booked in land sale case
Ludhiana, May 31
The Vigilance Bureau here has booked a PCS officer and five government employees for their alleged connivance to sell 116 acres of panchayat land in Mohali tehsil despite orders by the Supreme Court staying the sale of the land.
3 of family die in road mishap
Amritsar, May 31
Three members of a family were killed in a road accident when the Maruti car they were travelling in collided head on with a bus near Jandiala Guru in Majitha today. The deceased, hailing from Jandiala Guru, have been identified as Dilbagh Singh and his two sons Harjit Singh and Daljit Singh.
Bank official's ISI links unearthed
Amritsar, May 31
Gurbax Singh, a bank employee, who was arrested on charges of running a fake currency racket has revealed that he had established links with Pakistan with the help of an ISI agent, Abhi Saloon, who met him in the Amritsar jail.
Revoke case against teachers: PCCTU
Amritsar, May 31
The Punjab and Chandigarh College Teachers Union, condemned the treatment meted out to teachers by the Vigilance Department and urged Chief Minister of Punjab Captain Amarinder Singh to withdraw all vigilance cases against the apprehended teachers as giving tuitions did not fall under the anti corruption act.
Notification on VC's post
Patiala, May 31
The Punjab Government has issued a notification asking the members of the search panel constituted by it to recommend a panel of three names for consideration for the post of Vice-Chancellor of Punjabi University and submit its report within two months.
NCP files complaint against PAU Pro-VC
Chandigarh, May 31
The Punjab Pradesh Nationalist Congress Party has filed a complaint with the Lok Pal, Punjab, alleging the appointment of Dr K.S. Aulakh as Pro-Vice-Chancellor, PAU, Ludhiana has been illegal.
House tax notice to teachers giving tuitions
Gurdaspur, May 31
Mr Rakesh Jyoti, President of the local Municipal Committee told reporters here today that the Municipal Committee was issuing notices for the payment of house taxes to the teachers who used various houses for tuition work.