Monday, June 3, 2002, Chandigarh, India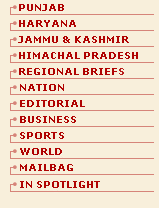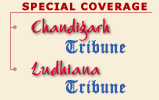 B U S I N E S S
Y O U R M O N E Y
A GUIDE TO PERSONAL FINANCE
Gold prices may rise further
LUDHIANA: The gold prices continue to rise despite the fact that there is no demand for the same and even import of gold has fallen during the first quarter of 2002. The World Gold Council has predicted that gold price would touch Rs 6000 per 10 gram of 24 carat. The price was quoted at Rs 5600 per 10 gram of 24 carat.
HOW I STARTED
Octave filled vacuum in clothing industry
LUDHIANA: "The apparel market was never so saturated as it is today with branded clothing from multinationals as well as local manufacturers. But at the time when we started way back in 1986, there were only a few local brands in the market and we immediately realised that there was a vacuum that could be filled well", say the Kumar brothers, Balbir and Harsh, Directors of Octave Apparels.
Investment options now
Chandigarh, June 2
Sentiment governed the equity market which has shown extreme volatility in the past few days has left investor confused over the right choice between various investment options.

Govt announces revised duty drawback rates
June 2, 2002
Govt warns Tatas of legal action
June 1, 2002
Maruti formally handed over to Suzuki
May 31, 2002
Troop buildup-cost factored in Budget
May 30, 2002
Policies to create 50 m jobs during 10th Plan
May 29, 2002
Economy strong enough to face war
May 28, 2002
Second-hand scooters get very cheap
May 27, 2002
Balaji Tele net zooms 566 pc
May 26, 2002
Reliance, Essar, ONGC to sell petrol
May 25, 2002
Rs 1500 cr industrial proposals for Haryana
May 24, 2002