THE TRIBUNE MAGAZINES
On Mondays

On Sundays
On Saturdays

IN PASSING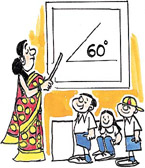 Madam, are you explaining how Mr Vajpayee and Gen Musharraf crossed each other?

by Sandeep Joshi
PPSC rejects unite to get justice
Bathinda, June 5
Even as some of the recently sacked PCS officers are trying to gain public sympathy through the media by claiming that their selection was fair, a number of candidates who were rejected by the PPSC during tenure of Mr Ravinderpal Singh Sidhu, Chairman, allegedly due to corruption, have decided to launch a campaign to counter the sympathy wave.
BKU mounts pressure on govt
Withdraws bail plea of arrested leaders
Jind, June 5
To step up pressure on the Haryana Government to withdraw cases against the arrested leaders, the Bharatiya Kisan Union today withdrew the application moved for their bail. Mr Surinder Singh Punia, lawyer representing the BKU, told the TNS that the application was withdrawn by him from the court of Mr J.B. Sharma, Additional Sessions Judge, today.

Chautala's concessions to farmers


Haryana page: Cong for President's rule in Haryana


Give Rs 10 lakh to kin of farmers killed: BJP


TRIBUNE FOLLOW-UP
2025 MC notices to violators missing
Jalandhar, June 5
The scandal of the Punjab Local Bodies Department involving hundreds of "suppressed" notices and crores of rupees, has taken a new turn. The 2,025 notices "issued" by the Jalandhar Municipal Corporation to dozens of people who have raised huge buildings including hotels, shopping complexes and educational institutes, in violation of the building bylaws and the Punjab Municipal Corporation Act, have been found to be missing from the record of the civic body during an inspection of records by the Vigilance wing of the department.

India rejects third-party mediation
June 5, 2002

Petrol to cost Rs 2.50 more
June 4, 2002


PM to talk with Putin and Zemin, but not Musharraf
June 3, 2002


13 Pak troops killed
June 2, 2002


61 pc of Kashmiris want to remain with India
June 1, 2002


Heavy shelling by Pak
May 31, 2002

Stop terrorism, says UK
May 30, 2002

Pak 'epicentre' of terrorism
May 29, 2002
Pak not exporting terror
May 28, 2002
Fulfil pledge, PM tells Pervez
May 27, 2002