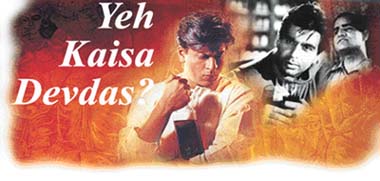 The right thing for director Bhansali could have been to be inspired by Devdas, make a film on similar lines, and name it, perhaps, Ramdas, says Devinder Bir Kaur.
DEVDAS has fascinated filmmakers for decades. Despite its unlikely premise and grim, nihilistic tone, Devdas is one of those films that seems to have captured the public imagination in a way that can't easily be explained through intellectual analysis.
Laughing through tears and pain
Juhi Bakhshi
IMAGES of Indian soldiers in battle fatigues, seated in camouflaged lorries and buses are flashed across the TV screens. The news reports also broadcast people stopping these vehicles periodically, performing aartis of the uniform-clad figures, placing vermilion tikkas on their foreheads, garlanding them to their nose before letting them go on their way again.
Remo returns with New Age music
Melvyn Lobo
INDIA Beyond marks the return of Remo Fernandes to the pop arena with what is billed as "New Age music". The 12-track album is a clear departure from the singerís signature rock style that produced such eternal classics as Goan Crazy, Bombay City and Politicians Do Not Know How to Rock and Roll.
Mangla ó the keeper of royal seal
Manjit Singh Cheema
BORN and brought up in a poor family in the remote Kangra hills, Mangla rose to be "one of the most considerable persons in the state" and emerged as "the confidante and counsellor of royalty during the days of anarchy in the kingdom of Lahore that followed the death of Maharaja Ranjit Singh.
Spur yourself to success
I.M. Soni
TWENTYONE-YEAR-OLD Indian cricketer Ajay Ratra recently said that he was determined to do well in Test career. He succeeded, hitting an unbeaten century at Antigua against the West Indies.