Tuesday, June 18, 2002, Chandigarh, India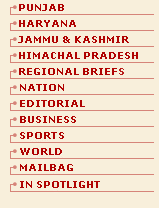 C A L E N D A R
Tuesday, June 18, 2002
Vikrama Samvat
2059
Ashara
4
Shaka Samvat
1924
Jyeshtha
28
Hijri
1423
Rabi-ussani
6

Jyeshtha Shukla Paksha Ashtami up to 4.50 p.m.
The eight lunar day of the bright half of Jyeshtha.
Uttaraphalguni Nakshatra up to 6.23 p.m.
Ending of Bhadra at 6.0 a.m.
Mars enters Punarvasu at 10.25 p.m.
Durga -Ashtami.
Dhoomavati Jayanti.
Ksheer Bhavani fair (Kashmir).