Tuesday, June 18, 2002, Chandigarh, India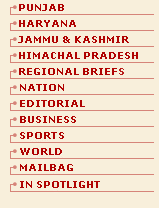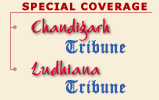 S P O R T S
| | |
| --- | --- |
| | WORLD CUP 2002 |
USA set up q-final clash with Germany
Jeonju (South Korea), June 17
The USA celebrated the greatest day in their footballing history by beating Mexico 2-0 to reach the quarter-finals of the World Cup here today.



Brazil owe it to Rivaldo, Ronaldo
Kobe, Japan, June 17
A spectacular Rivaldo goal and a late Ronaldo effort sent Brazil into the quarter-finals of the World Cup against a brave Belgium 2-0 today.
Brazil's Rivaldo is airborne as he kicks the ball past Belgium's Yves Vanderhaeghe (L) during their second round match at the World Cup finals in Kobe on Monday. — Reuters photo
Korea fancy chances against Italy
Taejon, (South Korea), June 17
South Korea will look for inspiration both past and present as they bid to continue their World Cup adventure with a victory over the mighty Italians in tomorrow's eagerly-awaited second round clash.
Turkey look to end Japan's campaign
Miyagi, Japan, June 17
Co-hosts Japan, swept along on a tide of feverish home support, and outsiders Turkey will make history tomorrow when they meet in an intriguing World Cup second round clash at the Miyagi Stadium.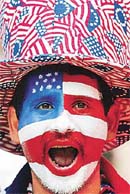 A US soccer fan with his face painted in the colors of the US flag sits inside the stadium before a second round World Cup Finals match between Mexico and the USA in Chonju on Monday.
— Reuters


Senegal 'lions' devour Sweden
June 17, 2002
England brush aside Danish challenge
June 16, 2002
Japan book berth in last 16
June 15, 2002
Del Piero saves blushes for Italy
June 14, 2002
Argentina crash out of World Cup
June 13, 2002
France make shocking exit
June 12, 2002
Jung-Hwan rescues Korea
June 11, 2002
Japan make history
June 10, 2002
Brazil thrash China 4-0
June 9, 2002
Beckham is hero of England victory
June 8, 2002