Sunday, June 16, 2002, Chandigarh, India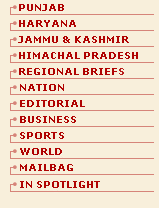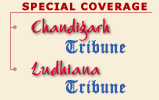 S P O R T S
England brush aside Danish challenge
Niigata, June 15
England outclassed Denmark 3-0 to roar into the World Cup quarter-finals here today. First-half goals from Rio Ferdinand, striker Michael Owen and Liverpool team-mate Emile Heskey crowned a superb display for Sven-Goran Eriksson's side, who now advance to a last eight showdown with either Brazil or Belgium.
England's captain David Beckham (L), Rio Ferdinand and Michael Owen (R) celebrate Owen's goal during the second round World Cup Finals match against Denmark in Niigata on Saturday.
— Reuters photo
Neuville puts Germany in last 8
Seogwipo, June 15
A goal two minutes from time from Oliver Neuville thrust Germany into the World Cup quarter-finals today as they ground out a hard fought 1-0 win over minnows Paraguay.


Scenes of unprecedented jubilation in Korea, Japan
Niigata, Japan, June 15
The greatest opening round in World Cup history started with one of the biggest upsets ever — and they never stopped coming after that.
Giant-killers Sweden, Senegal cautious
Oita, Japan, June 15
Sweden and Senegal are wary that new-found reputations will count for nothing when they meet in their World Cup second round clash tomorrow.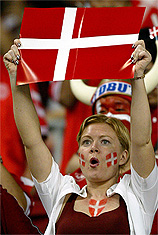 A Denmark fan holds a flag before the start of a second round World Cup finals match between England and Denmark in Niigata on Saturday. — Reuters photo

Japan book berth in last 16
June 15, 2002
Del Piero saves blushes for Italy
June 14, 2002
Argentina crash out of World Cup
June 13, 2002
France make shocking exit
June 12, 2002
Jung-Hwan rescues Korea
June 11, 2002
Japan make history
June 10, 2002
Brazil thrash China 4-0
June 9, 2002
Beckham is hero of England victory
June 8, 2002
Eto'o strike eliminates Saudis
June 7, 2002
Keane equaliser thwarts Germany
June 6, 2002
South Korea record first-ever win
June 5, 2002
Lacklustre Croatia go down to Mexico
June 4, 2002