Sunday, June 16, 2002, Chandigarh, India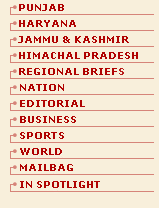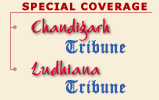 B U S I N E S S
Bill to give banks more teeth


Low inflation, soft interest rate policy to continue: Sinha
New Delhi, June 15
Yashwant Sinha said today that a Securitisation and Foreclosure Bill would be introduced in the Monsoon session of Parliament which would assist banks in reducing non-performing assets and strengthening their balance sheets.


In video (28k, 56k)
SBI offers small business cards
Chandigarh, June 15
Small scale industries and self-employed youths aspiring for loans and credit limit would no more have to present monthly statements, stock reports and audited balance sheets to their banks, as the State Bank of India, has launched an innovative scheme of small business credit cards to provide credit limit up to Rs 5 lakh.
Gandhi's ideals in SA firm's ad
Johannesburg, June 15
Mahatma Gandhi's innovative thinking has formed the basis of an advertisement for one of South Africa's leading banking corporations, Nedbank. The group has launched an initiative to get customers to "think differently". The main theme is Gandhi's response to a journalist's query in London.
SEBI to crack down on vanishing firms
June 15, 2002
RBI projects GDP growth at 6.5 pc
June 14, 2002
Industrial growth up 2.9 pc
June 13, 2002
Dabur net falls 17.3 pc
June 12, 2002
Govt settles row with Tatas
June 11, 2002
Not an untouchable commodity any more
June 10, 2002
Diesel price hike hits HP transport corpn
June 9, 2002
Centre asks VSNL to reconvene meeting
June 8, 2002
No grain sale to exporters at market rate: Shanta
June 7, 2002
Fiscal deficit at 15,329 cr
June 6, 2002