THE TRIBUNE MAGAZINES
On Mondays

On Sundays
On Saturdays

IN PASSING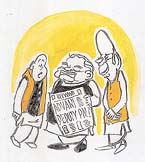 Can there be a place between number 1 and number 2?

by Sandeep Joshi
Tehelka's aim was to expose graft
Tejpal deposes before Venkataswami Commission
New Delhi, June 27
Tehelka Chief Executive Officer Tarun Tejpal today told the Venkataswami Commission that the motive behind the Operation Westend was "purely journalistic" to expose corruption in high places and categorically denied any tampering with the video tapes.



Editorial: Avoidable Tehelka
Punjab, Haryana to buy power
Ferozepore, June 27
Facing acute power crisis Punjab and Haryana have decided to purchase additional power from the Transmission Corporation of Andhra Pradesh Limited, AP Transco. The power supply to Punjab and Haryana will start from July 1.
Admit cards without photos!
Chandigarh, June 27
In this era when scams and jobs-for-money have shattered the confidence of people in bodies conducting examinations, Punjab is going to conduct its annual pre- medical entrance test (PMT) — which will decide the future of thousands of students — without even taking a photo of the candidate before the examination.


SGPC man caught exorcising
Amritsar, June 27
In a first-ever joint flying squad raid comprising members of Akal Takht and SGPC, the Assistant Information Officer of the SGPC, Mr Narinder Pal Singh, was caught red-handed while removing "evil spirits" at a dera. The flying squad caught the officer while performing exorcism, which is in gross violation of the Sikh "rehat maryada", and tenets of the faith.
CBI raids Tehelka premises
June 27, 2002

Print media thrown open to foreign investors
June 26, 2002

Stand by your pledge
June 25, 2002

Divide J&K into 4: VHP
June 24, 2002

VHP threatens Muslims, seeks ban on madarsaas
June 23, 2002

Nag test-fired twice
June 22, 2002

Pakistan bans foreign funding of madarsaas
June 21, 2002

Petrol to cost more in Punjab
June 20, 2002

Pak waives duty on 600 Indian items
June 19, 2002

Troop pullout in 8 weeks
June 18, 2002