Monday, July 1, 2002, Chandigarh, India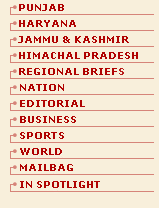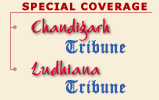 B U S I N E S S
Y O U R M O N E Y
A GUIDE TO PERSONAL FINANCE
Textile scrips up: wait for results
THE textile industry has been India's main forte after Independence. However, over the years due to the obsolence of technology and labour issues the industry has lost its sheen.
Size of the industry

Vardhman Spinning

Vardhman Polytex

Nahar Spinning
| | | |
| --- | --- | --- |
| | HOW I STARTED | |
'Managing time was biggest challenge'
LUDHIANA: "We were taking off in our professional lives when our father passed away. We took on the additional responsibility of consolidating the family holdings in different parts of Punjab and Haryana.


| | | |
| --- | --- | --- |
| | MARKET SCAN | |
Old economy shares move up
DURING the last fortnight, Sensex moved down by about 80 points, yet the old economy shares moved up in general. While Reliance group shares were depressed due to brain-stroke of the Dhirubhai Ambani, the Tata Group shares made some spectacular gains.
PSUs in Punjab oppose disinvestment
June 30, 2002
GDP rate grows at 5.4 pc
June 29, 2002
'Officials caused Rs 500 cr loss to PFC'
June 28, 2002
Hike in MSP for paddy opposed
June 27, 2002
Govt clears 100 pc FDI in tea sector
June 26, 2002
Maruti, Hyundai sales decline
June 25, 2002
Focus shifts to Punjab firms
June 24, 2002
HFCL nets Rs 66 lakh
June 23, 2002
Minister wants more investment in J&K
June 22, 2002
SBI net surges 51.57 pc
June 21, 2002