Monday, July 1, 2002, Chandigarh, India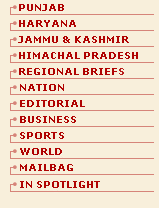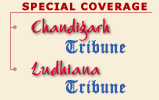 S P O R T S
| | |
| --- | --- |
| | WORLD CUP 2002 |
Four years later, Ronaldo finally completes the job
Yokohama, June 30
Brazilian star Ronaldo finally completed on Sunday what he wanted to do four years ago.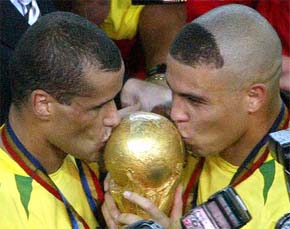 Brazil's Ronaldo (R), Rivaldo kiss the World Cup Trophy after their 2-0 victory over Germany in the World Cup final in Yokohama on Sunday. Brazil won a record fifth World Cup when Ronaldo erased the memory of his 1998 final nightmare by scoring both goals. — Reuters photo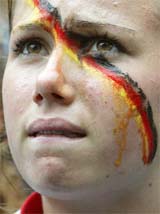 A German soccer fan watches the World Cup final between Germany and Brazil on a huge TV screen at Hamburg's famous red light district "Reeperbahn" in disbelief as rain washes away her face paint in a crowd of 50,000 supporters on Sunday.
— Reuters

Germany cancels party after defeat
Berlin, June 30
Germany cancelled the party today after Brazil beat the resurgent national soccer side 2-0 in the World Cup final, a slip-up from hero Oliver Kahn and a Ronaldo double denying Germany a fourth World Cup triumph.
Kahn finally makes fatal slip
Yokohama, Japan, June 30
Germany were let down by goalkeeper Oliver Kahn at the worst possible moment, a blunder from their captain and inspiration leading to their 2-0 defeat to Brazil in today's World Cup final.


Curse of Collina strikes Kahn again

German goalkeeper Oliver Kahn looks down as he leans against the goalpost after the World Cup final between Germany and Brazil in Yokohama on Sunday. — Reuters photo
Turkey edge out South Korea, finish third
June 30, 2002
Korea, Turkey battle for pride
June 29, 2002
Koreans now have another dream
June 28, 2002
Ronaldo fires Brazil into final
June 27, 2002
Ballack halts Korea's dream run
June 26, 2002
Korea have 'nothing to lose'
June 25, 2002
Semis line-up shows shift in power
June 24, 2002
Koreans barge into semis
June 23, 2002
Ronaldinho fires Brazil into semis
June 22, 2002
England defence tough test for Brazil
June 21, 2002
Germany recapturing winning ways
June 20, 2002