BRIDES WANTED

GROOMS WANTED

OBITUARIES

OTHERS

HOW TO PLACE ADVTS

No shift in MEA's Pak policy
New Delhi, July 2
The change of guard in the Ministry of External Affairs is purely an administrative exercise and does not connote any shift, subtle or otherwise, in India's foreign policy, particularly vis-a-vis Pakistan.

71 die as planes collide
Ueberlingen, Germany, July 2
A Russian passenger jet taking more than 50 children on a dream vacation collided with a cargo plane over Germany, killing 71 persons, officials said today.

7 HC Judges sworn in
Chandigarh, July 2
Five members of the Bar and two of the superior judiciary were today administered oath as Punjab and Haryana High Court Judges by Chief Justice Mr Arun B. Saharya. Following their elevation, the number of judges has increased to 33 against the sanctioned strength of 40.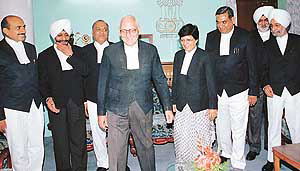 Chief Justice Arun B. Saharya (centre) is surrounded by newly appointed Judges (from left to right) Hemant Gupta, Varinder Singh, S.K. Mittal, Mrs Kiran Anand Lall, Viney Mittal, S.S. Saron and S.S. Grewal after an impressive ceremony at the Punjab and Haryana High Court in Chandigarh on Tuesday.
— Tribune Photo Pankaj Sharma
In Health Tribune today