3 Pak parties may be out of poll arena
Islamabad, July 3
The three major political parties of the country — the Pakistan Muslim League (Nawaz group), the Pakistan People's Party and the Muttahida Qaumi Movement — may not be allowed to contest the October elections if they do not remove their present top leadership.

Editorial: Musharraf in difficult straits
THE TRIBUNE MAGAZINES
On Mondays

On Sundays
On Saturdays

IN PASSING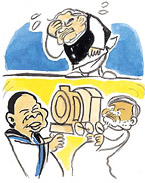 Oh, this sibling rivalry!
by Sandeep Joshi
Hoon holds talks with George
Infiltration unabated, says India
New Delhi, July 3
India today conveyed to Britain that Pakistan was still to rein in the terrorist groups and that there was a spurt in the cross-border infiltration after a brief lull last month.


In video (28k, 56k)


World page: Hoon holds talks on Indo-Pak standoff
Sinha flays Pak on infiltration issue
New Delhi, July 3
Newly appointed External Affairs Minister Yashwant Sinha today lashed out at Pakistan for going back on its promise to plug infiltration, saying that India reserved the right to take appropriate action to foil the proxy war being waged by Islamabad.


In video (28k, 56k)

India, Pak in de-escalation mode
New Delhi, July 3
India and Pakistan are on a de-escalation mode — diplomatically as well as militarily — despite New Delhi's concerns about Islamabad's continued cross-border infiltration and heavy shelling along the Line of Control. Confirming this, well-placed sources here chose not to divulge the details of the military de-escalation.



Nangal may lose heavy water plant
Ropar, July 3
Owing to the proposed disinvestment of National Fertilisers Ltd., the Department of Atomic Energy was planning to dismantle Asia's oldest heavy water plant at Nangal. Reliable sources told The Tribune that the heavy water plant situated in the Nangal unit of the NFL was a major hurdle in the disinvestment process of the company.
Parleys on to rope in Mamata
July 3, 2002

Shatrughan, Jana, Verma inducted into Cabinet
July 2, 2002

Jaswant Singh to be new Finance Minister
July 1, 2002

Advani appointed Deputy PM
June 30, 2002

PM may have deputy
June 29, 2002

3 jawans die in blast on Amarnath yatra route
June 28, 2002

CBI raids Tehelka premises
June 27, 2002

Print media thrown open to foreign investors
June 26, 2002

Stand by your pledge
June 25, 2002

Divide J&K into 4: VHP
June 24, 2002