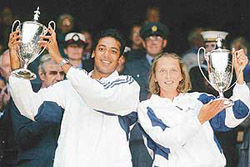 Bhupathi-Elena duo lifts title
London, July 8
India's Mahesh Bhupathi today lifted the mixed doubles trophy at the $ 13.2-Million Wimbledon, pairing with Russian Elena Likhovtseva for the title.
Mahesh Bhupathi (left) and Elena Likhovseva hold up their trophies after winning the mixed doubles championship at Wimbledon on Sunday. Bhupathi and Likhovseva defeated Kevin Ullyett and Daniela Hantuchova to win the final. — AP/PTI photo

No plan to team up with Paes: Bhupathi
London, July 8
Indian star Mahesh Bhupathi lifted the Wimbledon mixed doubles crown with Russian Elena Likhovtseva and said that he was playing some of the best tennis of his career since splitting with long-time men's doubles partner Leander Paes.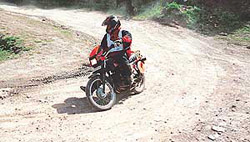 Surhid emerges winner
Solan, July 8
Surhid Sharma, riding a Suzuki Shogun, won the 8th BSNL Highland Scooter and Motorcycle Rally. From the smooth way he took the curves, this result was a foregone conclusion. H. Aulakh came second and Mohan Preet Singh third in the rally held here on Sunday.

Surhid Sharma takes a turn on way before winning the 8th BSNL Highland Scooter and Motorcycle Rally. — Photo Roopinder Singh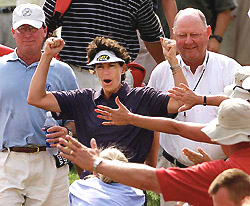 Juli Inkster of the USA celebrates with the gallery after winning the 57th US Women's Open Championship at the Prairie Dunes Country Club in Hutchinson, Kansas, on Sunday. Inkster finished the day four strokes under par to win the Open championship for the second time in her career. — Reuters
Direct entry for Alok Kumar
Chandigarh, July 8
In a unique honour, Alok Kumar, India's national pool champion, has become the only Indian player to be given a direct entry into the prestigious 2002 World Pool Championships taking place at the Cardiff International Arena in the UK from July 13 to 21.

Indian spikers win
Chennai, July 8
A confident Indian men's volleyball team, having won the recent Test series 2-1 against Tunisian national team, started their campaign against the much highly rated Iran squad with a brilliant win yesterday in the first Test.
Indian eves fail to qualify
New Delhi, July 8
India continued with their lacklustre performance in the 48th World Shooting Championship with the senior women failing to qualify for the final of the rifle's event today at Lahti in Finland.