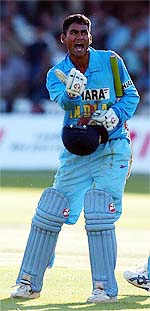 Mohammad Kaif celebrates after India won the Natwest series final at Lords on Saturday. India beat England's score of 325 with 3 balls remaining.
— Reuters
3 ex-members of PSSSB picked up by Vigilance
Gurdaspur, July 13
Vigilance Bureau policemen from Chandigarh took into custody Mr Munawar Masih, who was a member of the Punjab Subordinate Services Selection Board during the Akali-BJP rule when he came out from a church where Union Minister of State for Tourism Vinod Khanna paid obeisance here today.

Punjab page: Soch, IAS officer face Vigilance probe
Amarinder lobbies for confidants
But high command may not oblige
New Delhi, July 13
Punjab Chief Minister Capt Amarinder Singh today met AICC general secretary Mohsina Kidwai regarding the appointment of PCC chief in the state, even as contenders for the post of Congress chief in Punjab and Haryana met AICC leaders to keep up their claims.
In Her World today

THE TRIBUNE MAGAZINES
On alternate Mondays

On Sundays
On Saturdays

Railway issue back with Cabinet
New Delhi, July 13
Prime Minister Atal Behari Vajpayee tonight decided to call a meeting of the Cabinet to invite fresh thinking on the controversial issue of bifurcation of Eastern Railway a day before the monsoon session of Parliament.
AMRITSAR EX-DC REVEALS IT ALL — II
When Centre nearly sacked Gill


Amritsar, July 13
It sounds strange but it is a fact that the Central government had almost decided action under Article 311 of the Constitution of India to sack Mr K.P.S. Gill the then Punjab Police Chief and Mr Sarbjit Singh, the then Deputy Commissioner of the Amritsar district even after great success of Operation Black Thunder in May 1988.

Part I of story (Saturday)
'Misdeeds' of stalwarts during militancy

Punjab defers ordinance on tainted appointees
July 13, 2002

Venkaiah blends youth with experience
July 12, 2002

PM for consensus on labour reforms
July 11, 2002

Alexander quits
July 10, 2002

Parties reject EC order
July 9, 2002

Thousands bid adieu to Ambani
July 8, 2002

Buddhadeb meets Advani
July 7, 2002

Sukh Ram gets 3-yr RI
July 6, 2002

Mamata seeks PM's intervention
July 5, 2002

PM in a bind on Mamata issue
July 4, 2002