Monday, July 15, 2002, Chandigarh, India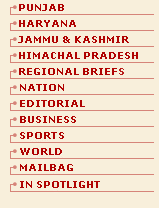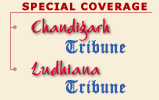 Students find direction in IT courses
Chandigarh, July 14
An unlimited number of application forms, limited seats and a great demand for vocational subjects practically sums up the scenario in city colleges. Admissions are almost over in these colleges going by the fact that most of the colleges have exhausted their seats in the science streams while a few seats are still vacant in the humanities stream in these colleges.
Meeting to approve town's master plan today
SAS Nagar, July 14
All is set for the meeting of the Punjab Regional and Town Planning Board, scheduled for tomorrow, under the chairmanship of the Punjab Chief Minister, Capt Amarinder Singh, to approve the master plan for SAS Nagar.
Delayed monsoon brings woes
Dera Bassi, July 14
Delayed monsoon has cast its shadow on scores of natural water features and artificial water bodies which are not only used to water fields and bathe cattle but also to earn revenue for the panchayats concerned resulting in hardships to the villagers of this part of the region.
Identity proof must for mobile cash card holders
July 14, 2002
PU imposes total ban on ragging
July 13, 2002
PUDA bans use of parks for private functions
July 12, 2002
Upward revision of water tariff on the cards
July 11, 2002
Heavy rush of admissions to postgraduate courses
July 10, 2002
Gang forging VIP security stickers busted
July 9, 2002
PU plans more academic independence
July 8, 2002
Sector 34 goes without power for 18 hours
July 7, 2002
Defaulting schools: PUDA hits back
July 6, 2002
Entrance test for enrolment in PhD
July 5, 2002