THE TRIBUNE MAGAZINES
On alternate Mondays

On Sundays
On Saturdays

IN PASSING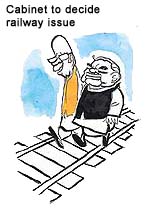 No need to worry. Mamata Express is not on time !

by Sandeep Joshi
Business page: Punjab CM calls on Sharad Yadav

Punjab Chief Minister Amarinder Singh meets Union Minister for Consumer Affairs and Public Distribution Sharad Yadav to discuss the drought problem in Punjab and other pending issues in the Capital on Tuesday.
— Tribune photo Mukesh Aggarwal
Dheera, Sagar implicate Sidhu
Record statements in Patiala court
Patiala, July 23
Two touts of suspended PPSC Chairman Ravinderpal Singh Sidhu, Randhir Singh Dheera and Prem Sagar, who today recorded statements under Section 306 CrPC in a bid to turn government approvers against their former "boss", have both implicated Sidhu in their statements claiming the latter had asked them to solicit bribes for him in return for jobs in the State Civil and Judicial Services besides other posts advertised by the PPSC.
Concern over infiltration by Chinese army
New Delhi, July 23
The Rajya Sabha today expressed concern over reports of infiltration by the Chinese army into Indian territory from parts of Ladakh and Uttaranchal.
Maruti 800 prices slashed
New Delhi, July 23
The "people's car" became more affordable from today with Maruti Udyog Ltd dropping prices of Maruti 800 by Rs 15,000 to Rs 18,000. The company has however, withdrawn all its earlier incentive schemes, including free insurance on the entry-level model.


Baba Bhaniarawala returns to village
Dhamana (Ropar), July 23
After the quashing of Ropar District Magistrate's order regarding a ban on the entry of controversial Baba Piara Singh Bhaniarawala in the Ropar district till September 12 by the Punjab and Haryana High Court on July 19, the Baba, after reportedly spending some days in Himachal Pradesh, once again returned to his native Dhamana village last evening. Earlier, the Baba had returned to his village on July 10 after spending nine months in jail.
Gujarat issue rocks LS, RS
July 23, 2002

Centre to impose Governor's rule in J&K
July 22, 2002

BJP asks Cong to clear stand on Gujarat poll
July 21, 2002

USA rejects Pak plebiscite demand
July 20, 2002

Kalam elected President
July 19, 2002

Ultras may target J&K leaders, Parliament, SC
July 18, 2002

Opposition attacks govt on ways to end terror
July 17, 2002

Death to Sheikh Omar
July 16, 2002

Protesters keep Advani away from carnage site
July 15, 2002

Ultras kill 25 in Jammu
July 14, 2002

Punjab defers ordinance on tainted appointees
July 13, 2002