THE TRIBUNE MAGAZINES
On alternate Mondays

On Sundays
On Saturdays

IN PASSING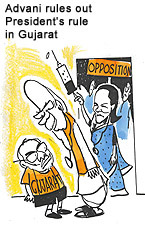 Don't worry. I'll give you sugar-coated capsules only!

by Sandeep Joshi
Special package for Punjab border districts sought
New Delhi, July 25
Mr Ashwani Kumar, Rajya Sabha MP from Punjab, today raised the issue of the four-laning of the national highway between Jalandhar and Amritsar as per the announcement made by Prime Minister Atal Behari Vajpayee in November last year.
Curfew in Ranchi, people fear backlash
Ranchi, July 25
Curfew was clamped on three police station areas of the city today even as other areas remained paralysed apprehending a possible backlash to yesterday's bandh called by pro-domicile organisations which left five dead and 25 injured.
Dutt caught on tape talking to Shakeel


Mumbai, July 25
A witness in the Bharat Shah case today identified the voices of actor Sanjay Dutt, producer Harish Sughand and directors Sanjay Gupta and Mahesh Manjrekar on a cassette containing transcripts of a telephonic conversation that they allegedly had with Gulf-based don Chhota Shakeel in the winter of 2000.


Langah surrenders in court
Kharar, July 25
Mr Sucha Singh Langah, former PWD (Public Works Department) Minister, Punjab today surrendered in the court of Mr Roshan Lal Chouhan Judicial Magistrate here at 10.45 a.m.
Former Punjab PWD Minister Sucha Singh Langah arrives at a Kharar court to surrender in a case registered against him by the Punjab Vigilance Bureau on Thursday.
— Tribune Photo Manoj Mahajan
Centre unveils package for drought-hit
July 25, 2002

No Central rule in Gujarat: Advani
July 24, 2002

Gujarat issue rocks LS, RS
July 23, 2002

Centre to impose Governor's rule in J&K
July 22, 2002

BJP asks Cong to clear stand on Gujarat poll
July 21, 2002

USA rejects Pak plebiscite demand
July 20, 2002

Kalam elected President
July 19, 2002

Ultras may target J&K leaders, Parliament, SC
July 18, 2002

Opposition attacks govt on ways to end terror
July 17, 2002

Death to Sheikh Omar
July 16, 2002

Protesters keep Advani away from carnage site
July 15, 2002

Ultras kill 25 in Jammu
July 14, 2002

Punjab defers ordinance on tainted appointees
July 13, 2002